Play-Doh My First Table Review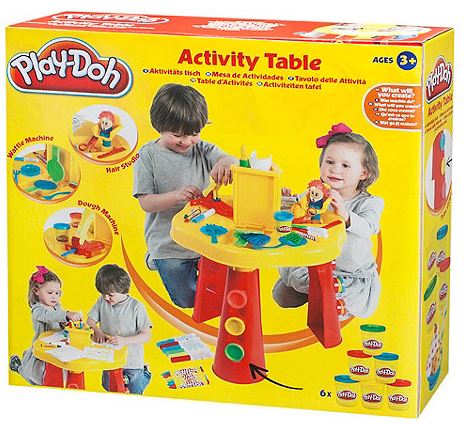 Like most kids, my children really enjoy Play-Doh, and like most parents, it drives me crazy. Whether I make my own, or buy the pre-made stuff, it always ends up in little bits everywhere, and I pretty much hate it. So when we were offered the Play-Doh My First Table for review  I thought it was a great idea for creating a Play-Doh 'station' and away from there, Play-Doh will simply go in the bin. That was the theory, anyway. Read on to see what the reality was like. 
The activity arrives in a minimal packaging box, which is great. The table has four legs that need to be clipped in - easy peasy, takes no effort at all - then you need to slot all the bits into place. It's really a 2 minute job before you're up and running.
The table comes with 6 Play-Doh tubs that slot into the circles in the table legs and 2 studio figures with Play-Doh, a 'chair', comb and doh-scissors. There's a dough machine with shapes for squeezing out shapes and 2 ice cream cups, a roller and a waffle machine. Finally, two forks and 2 plates add to play options.
Rather randomly, there are also 10 colouring sheets, 6 chunky wax crayons and 6 markers for Play-Doh themed non Play-Doh play.
The kids were really excited about the Play-Doh table. They loved having the dough in pots and loved the novelty of it. They opened all six pots and mixed all the colours together into a hopeless swirl. The studio figures were put in the chairs, and the hair was 'grown' and cut. It's terribly messy. Being able to put the whole affair outside was a bonus. It was also great the they chose to stay around the table, so even though there was a lot of mess around the table, it was off the sofas and carpets.
There are three slots in the table which the waffle maker, shape cutter and studio chair slot into. When they are in use this is great, but when not, it's nice to be able to have the flat surface to work on. It's almost a nice idea, but when all three are slotted in there's no flat surface to work on - particularly problematic when you have two children working at the table at the same time.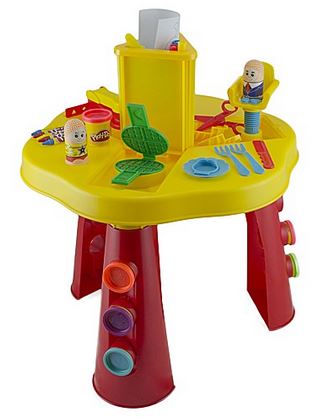 That said, it's a nice idea to have them slot in.
In the centre is a triangle 'pot' which is good for keeping the loose bits in, and you can store the pens and crayons in it too, but to be honest, they were amalgamated into the others in their craft table rather than being kept with the Play-doh stuff.
Overall, I really like this table. It's a nice idea. It's sturdy and it's big enough for my 4 and 2 year olds to play together at the same time. You could probably put another child in there too, if you needed to.  It hasn't toppled over or broken or been otherwise negatively affected by having two toddlers bang away at it.
It's also a small size too, which means it can be put away easily enough. Ours is actually outside and has been living outside since the Play-Doh got re-appropriated into the garden. I need to make or buy new Play-Doh then I'll probably bring it in to live again. It is small enough to keep under the table or in a corner or something.
Where Can You Buy It 
(Prices correct at time of publishing)
Very* currently has the Play-Doh My First Table on sale in their end of season sale for £20.
Debenhams* have it for £25, but there's £3.99 delivery if you can't click and collect. You could add the Play-Doh Mini Cone Container* for £8, meaning you don't have to pay delivery and have a spare gift on hand.
The Good

The kids were so excited by it and it certainly helped keep Play-Doh play to the table.
Using the table was really good for keeping everything stored together too.
The activity table comes with a lot of accessories and things to make it entertaining, but you could just as easily add other Play-Doh accessories to it too.
The Bad
I found the way the flaps lift to reveal the clips for the accessories ever so slightly annoying. What would be great is being able to clip them in and close it, so that the accessories lower down into the table. With them clipped in, you can't close the table. It didn't seem to bother the children much though.
The Verdict
I still don't love Play-Doh, but it's all about the children, and they loved it. I, in turn loved how it prevent the pandemic spread of Play-Doh bits. Really good all in all, and I think it makes a fantastic gift for a lover of Play-Doh and their long-suffering parents.