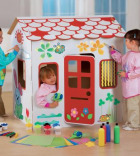 I've just had an email from the Early Learning Centre full of toy ideas to help pass these dark Winter days, and this paint-your-own card house looks like brilliant fun.
At £30 it isn't a cheap purchase but considering you get the house, 8 sheets of coloured stickers, 22 sheets of coloured paper and 5 felt tip pens along with an instruction sheet,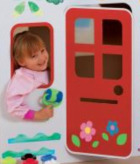 I reckon it probably works out at fairly good value.
After all, not only do you get the fun of decorating the house together, which should easily take up a rainy afternoon, but it should provide hours of fun afterwards, too.
At 109cm tall, the house is easy to assemble and made from from forest friendly card.
If only all house purchases were so easy, eh?