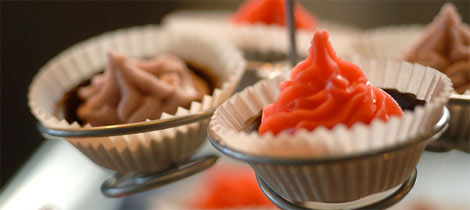 I received a Mini Cupcake Maker from Kelkooselect, to try my hand at baking mini cupcakes!
Mini cupcakes seem to be really popular lately. I'd never heard of them until the last year or so, but you see them everywhere now! I think it's maybe a psychological tactic though – thinking you're only eating a little small cupcake, regardless of the fact that you eat twice as many as a normal sized treat!
The cupcake maker is similar in size and design to a toastie machine. I used the simple batter recipe which was on the instructions of the cupcake maker. I had planned on making quite a few cupcakes so I decided to triple the recipe (having no idea how many it was going to make).
You can use the cupcake maker as it is, simply pouring the batter into the holes. Or, you can choose to use little cupcake cases, which is what I decided to do. I thought it would cut down on the potential mess and make things easier to tidy up.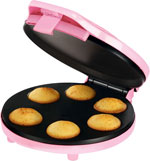 There was a fair bit of trial and error involved when I first used the cupcake maker. I wasn't sure exactly how much batter needed to go into the cases, considering they needed room to rise. I also wasn't really sure how long to leave them in for. The instructions suggested 4 minutes, but I ended up trying a few different lengths and settled on a 7 minute cooking time. I believe the appliance cools slightly with opening and closing between batches, so that's probably why it needed a bit longer than it said on the destructions.
I feel the size of the cupcake holes is good, and it's really handy that this is all in one appliance. If I'd just been filling the little cupcake cases and popping them in the oven, I don't think I would have had as good results. The batter made the little cases spread out, but the cupcake maker shaped the baking batter into the perfect cupcake shape.
I tried out a few different flavours with the cupcake batter. I mixed one little batch with peanut butter, one batch with nutella, one batch with peppermint food colouring. The peanutty cupcakes were lush! I had also bought a cupcake decorating kit from Sainsburys, which came with various icing pens and sprinkles. It was fiddly to decorate the little cupcakes, but they looked like a lot of effort had been put into them. I also cut off the top and filled a few with sugar cream icing, and made them into little butterfly cakes.
In the end, tripling the batter recipe wasn't a great idea. I made about 70 mini cupcakes, and still had batter left over. It was hard to judge the quantities. But everyone enjoyed the little cupcake treats!
As I had used the cupcake cases, the appliance was really easy to clean when cooled – a little wipe over with some kitchen roll did the trick.
The mini cupcake maker is incredibly pink! That's not normally the sort of colour I would actually choose for my own kitchen, but I know many people love pink appliances and accessories.
With various kitchen appliances, I sometimes buy something... use it regularly for a couple of months and then it hides in the cupboard for all eternity. I think I will be cracking out the cupcake maker for special occasions though, making special treats for birthdays and Christmas.
(Image credit: modomatic on flickr)