Halloween Crafting - Spooky Milk Jug Ghosts! We love these.. try it out!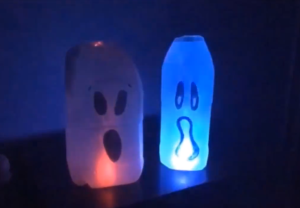 Want an idea for some budget Halloween décor? Check out our Spooky milk jug ghosts!
What you need:
Empty milk jugs
A sharpie
Lights
Here's one we made earlier! To light them up, we used some neon-ice cubes we had from a party. You can use anything the kids have available, any light-up toys or little torches, even a string of Christmas lights. We think it's a fab idea for some cheap decorations.
Give it a try yourself or check out our other crafty ideas and Halloween discounts here