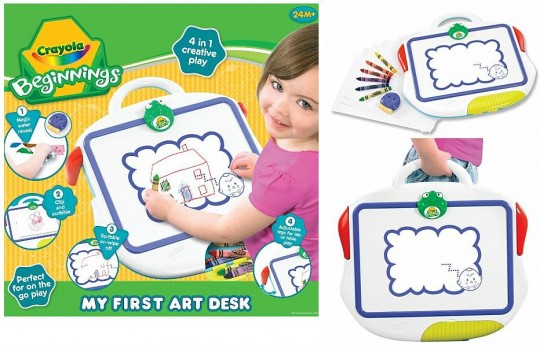 There's £14 off the Crayola: My First Art Desk at Debenhams at the moment. It normally sells for £20, was reduced to £10 and has now been further reduced to £6. Delivery is an added £3.99 unless you're ordering over £30 worth, but you do have the free option of delivering to a store.
Aimed at kids 2 and over, the First Art Desk includes the desk, six sheets of plain A4 paper and 6 Beginnings Triangular Crayons.
You can adjust the feet of this desk for table-top play or hold it flat in the lap. There is an elephant-shaped water wand for use on the magic water reveal surface.  You can flip the desk over to scribble with a Beginnings Triangular crayon and wipe it clean with a cloth.
You can store the crayons in a built-in compartment and the use the frog-shaped clip to hold the paper in place for displaying your toddler's masterpieces.
Thanks to HUKDeal16 at HUKD