By Carla Bib And Splash Mat Set Review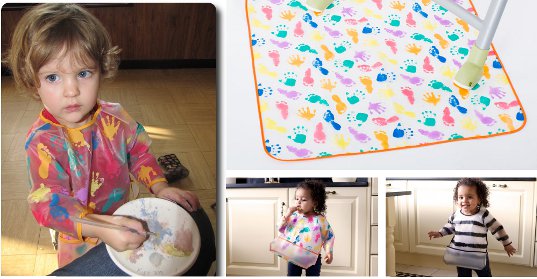 By Carla do a Bib and Splash Mat Set that's currently in pride of place on my living room floor.
The 70x70cm splash mat is ideal for use when painting, colouring, cutting and other crafts, as well as for messy play or playdoh and even for snack times – or meal times when you're weaning. It creates a fantastic easy to lift up and dust off, then wipe clean surface.
The bib is a long sleeved, flat fronted bib making it ideal for play time when you don't want the clothes the get dirty – especially with paints or a chalk board – and it has a pelican bib that you can fold out to catch food during meals.
The splash mat and bib are made of plastic, but rather than being PVC they are something called  PETA, which is apparently a chlorine-free vinyl that's starting to be used in lots of products as a replacement for PVC. It's not a perfect substance as it's still a petrochemical product and not entirely tested, but it's already better than PVC.
It's nicely finished off with a binding to keep the edges reinforced, and the bib has a Velcro tab at the top to keep it in place.
There are two designs, the Nougat, which is zebra-like black and white stripes , and Playtime, which are simply gorgeous newborn-ish sized hand and foot prints in a variety of colours  - pink, purple, blue and green – with yellow binding. I would say both are pretty unisex in appearance.
The Bib and Splash Mat Set come in a carry bag made of similar materials, but undecorated, and it's a perfect storing place for when they're not in use.  My daughter also loves carrying them around in their 'handbag'.
She loves the set and often asks to wear her 'apron'.   We were also really surprised by the price. We guestimated the price at £20 - £30, but Amazon are selling them at £12.99.