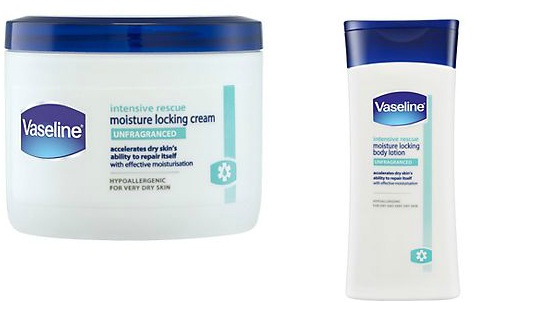 It's that cold time of the year. I think in the UK we call it the part of the year that isn't August. Although the last few years might have revised that.
Autumn is my favourite season. I love clear, crisp, Autumn days, with the air full of red and gold leaves, and long walks in the woods. It is harsh on the skin though, especially when you get into the really frosty days. I seem to spend a lot of time each year looking for ways to ensure soft skin in Winter.
My husband works outdoors too, and at this time of the year the cold really affects his hands. We usually invest in expensive, heavy duty hand cream for him.
So, with me doing the daily school run and park after school whenever it wasn't running, the two of us go through a lot of skin care products during the Autumn and Winter.
Making us the perfect family to give the new Vaseline moisture locking cream, and the moisture locking body lotion, a really good testing. Read on to find out how we did, and whether these products will truly save your skin, or just leave your wallet a little bit lighter.
Vaseline intensive rescue moisture locking cream
Aimed at really dry skin problems, the Vaseline intensive rescue moisture locking cream comes in a 250ml pot (£4.49 at Boots*). According to the website, it provides twice the moisture of E45 cream (in a test taken over two weeks, more info on the website).
Since that's one of the creams that my husband uses, I was rather intrigued to see how Vaseline measures up. The cream itself was a surprise. Going by our experience with other heavy duty moisturising creams, like the sort designed for fishermen, I was expecting a rather thick, slightly waxy mix. However, the cream itself is surprisingly thin and slightly runny.
This meant I only needed to use a tiny amount, and it spread really well. It is quickly absorbed, but still you do get that residue feeling on your skin for a while afterwards. This is the same with any heavy duty hand cream I've tried though. Still, at least you're not sitting there for ages rubbing the cream in, it sinks into the skin straight away.
And it does leave the skin feeling really soft. After a week of use, I find I just need to put some on in the mornings. My husband repeatedly tells me how good it is, and insists on us switching to this brand. So a clear endorsement there!
Pros: quickly absorbed, leaves skin feeling really soft, un-fragranced
Cons: personally I'd like a perfumed version for me, I like my hand cream to smell nice too.
Overall verdict: 10/10
Vaseline intensive rescue moisture locking body lotion
Unlike the cream, the Vaseline Intensive rescue moisture locking body lotion (200ml, £3.49 at Boots*) is scented. The bottle I received had a light, camomile fragrance. Not particularly appealing to me, but if you like camomile (and I don't) then it will probably be quite pleasant.
According to the website "increases moisture reserves in your skin instantly, then fills in the gaps found in dry, damaged skin to lock moisture in all day, promoting the proper environment dry skin needs to repair itself." It doesn't say how it does that exactly.
Still it is meant to last 24 hours, and I have to say it does that. But I didn't find it that pleasant to use. Like the cream, it is also quite thin and you only need a little to cover a large area. However, I didn't find it at all as absorbent, and also my skin felt almost sticky for a while afterwards.
But yes, it definitely left my skin feeling softer for most of the day. I just didn't feel it was that much softer than my usual lotion, not enough to want to replace it. I did find it worked well on my legs, where my skin can get particularly dry though.
Pros: light fragrance, lasts all day
Cons: skin felt a bit sticky after applying, not as absorbent as the cream
Overall verdict: 7/10