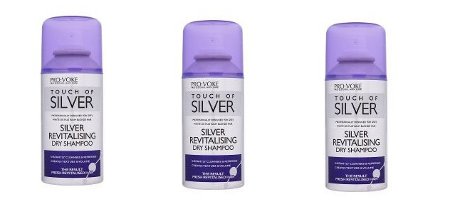 I'm a really 'what you see is what you get' kind of person, and while I'll wear make-up most days, I've never been big on hair sprays and such like, unless it's for a wedding or similar special occasion.
Additionally, as a mum I sometimes simply don't have time for the basics. You know how they say some days just getting out of bed and through the shower is a successful day? Well, it's true for me, some days. But, having little to no sleep, oversleeping, and not having time to wash your hair in the morning, I have found, no longer has to be so incriminating.
I discovered Touch of Silver Dry Shampoo from Pro:Voke, which has revolutionised those rough mornings for me. I'm not entirely sure how it works, but basically, you spray the spray onto the roots of your hair and massage it through. You then brush through to get rid of excess product and off you go. Your hair sis now supposed to look clean, refreshed, and full of body.
And the thing is: it does. Obviously it doesn't feel like freshly washed hair, but it looks perfectly fine and even light and clean.  I'm not sure how, but it must absorb or dry up the oiliness of unwashed hair.
What I didn't realise at first was that it is actually meant for grey, white or platinum blond hair, while I have brown hair, and it still works perfectly.
I wouldn't make it a way of life – I love the feel of clean hair too much – but for those morning emergency, Touch of Silver Dry Shampoo by Pro:Voke is a life saver.