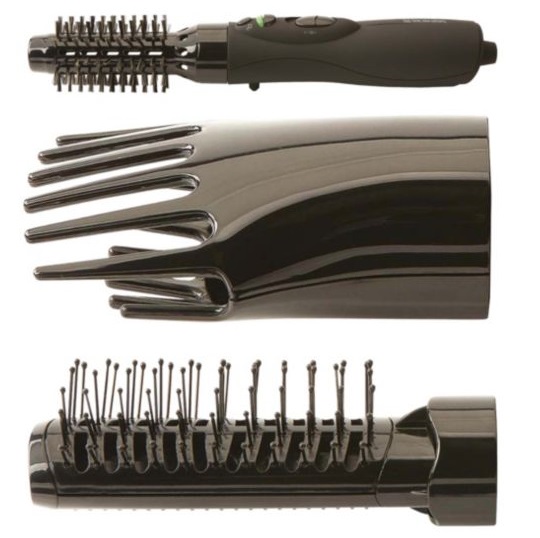 Beauty on a budget. That's me these days! Always on the look out for grooming and beauty products that take two seconds to use and don't cost the earth. Since having children I've had very little time to spend on myself, and now that I'm out working full time, I have even less. Yet, paradoxically, the need to be presentable and look professional is now particularly important.
THX - Total Hair Experts - specialise in just that sort of product. I received a THX Multi-tude Creative hot-air styler to try out for review. This device blows cool, warm and hot air through three different styling brushes to help you create a smooth sleek finish, or a range of different curls, or to add volume. There's also an Ionic button, which is supposed to help eliminate electrostatic charges.
Now, I don't get along with anything like this. I'm useless. Plus, I have long, naturally curly, hair that is very fine and prone to static.
This device definitely had its work cut out! Read on to find out how the styler fared.
The THX Multi-tude Creative Styler is sold for £25 through Tesco*. I was rather overwhelmed when it arrived as the box is huge and the device looks like something they might have invented for torture. That might just be my horror of beauty implements showing through though. I have wasted a lot of money on some pretty awful devices over the years.
There are three attachments. A brush just like the one I use normally every day, a rounded more bristled styling brush, and a sort of comb that's used for adding sleekness and/or volume.
Being someone who finds reading instructions akin to sticking forks in my eyes, this was really easy to operate. A quick skim told me that hair needed to be damp and not wet to use the device.
This is a negative for me as I am one of these people that leaves showering and washing hair to the very last minute and is blasting her hair with the dryer seconds before going out the door.
However, it is a good thing in that testing the device has made me plan my preparations rather better, starting with an early shower rather than leaving it all to the last minute.
Once you've got your hair curled around the brush it is impossible to see the control button, so have a go with it first. This is easy enough to be honest - the first setting is cool-ish, the second is warm and the last is hot. The air is cool on the first setting, not cold, as I was expecting for some reason, so I kept thinking I was doing it wrong.
I absolutely loved the curls I achieved with the brush. These were amazingly controlled, and looked great. Normally even with lots of product and styling my hair just goes into one big bushy clump. The first night I went out I just kept running my hands though my hair, marvelling at the lovely loose curls!
I did not have any luck with the finger-comb. This should create more volume at the roots. I was perplexed by the attachment, which had long comb on one side and a short comb on the other. There wasn't anything to say which one to use. And neither side seemed to have much effect, if at all, on my hair. It is possible that being so fine, and so long, nothing is going to lift it at the roots.
Also, I really did not find that my hair had less of a static problem after using the styler.
At this price, for the brush styler alone, I'm happy though. It gave me voluminous, styled curls in just seconds, which is perfect for someone who loathes spending time drying her hair at all.
Pros: excellent curls, good price
Cons: didn't notice any difference in static, wasn't sure how to use the finger-comb
Overall verdict: 10 / 10 for the curls alone!