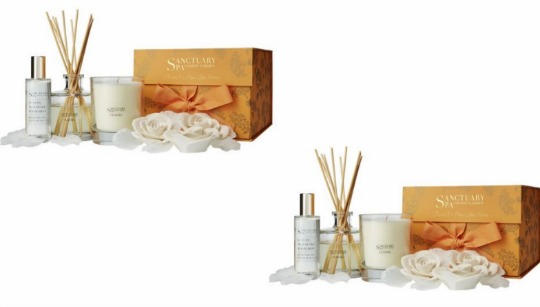 We are not sure why but this week's Star Gift offering from Boots is NOT available to buy online. You can get it from your local Boots store though. What is it this week? It's the Sanctuary There's No Place Like Home Gift Set, at the introductory price of £20 instead of the £40 it will be as of next Friday. We are liking the saving but not that we can't bag this beauty online. Sort it out Boots!
The Sanctuary There's No Place Like Home Gift Set contains a Signature Reed Diffuser (160ml), a Signature Candle (120g), Signature Room Mist (50ml) THREE Signature Scented Ceramics and Signature Scented Silk Rose Petals. It all comes wrapped up in a lovely gift box that is finished with a pretty gold bow.
This is one of these gifts that is handy to buy and put by in case someone unexpectedly buys you a present. It'll save that last minute dash. I am tempted to get this for myself, although I don't think I would ever pay £40 for it. £20 makes it a good buy though as you can pay around £15 for a premium scented candle alone.