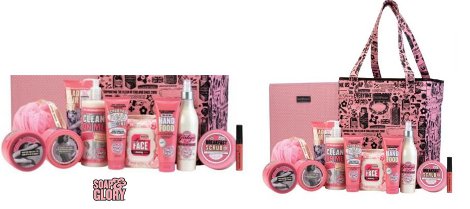 The Soap and Glory Pink big tote bag is less than half price at Boots down from £60.00 it's now £25.00 – or possibly even £20.00 if you're a Boots Parenting Club card holder.
Get Soaped up and looking Glorious with Boots
Promotional Code: PCBS44 & PCBS43 either code works, so if you want two, use both.
Promotion: £5.00 off a £20.00 spend for Boots Parenting Club card holders.
Expiry: Unknown
I received a similar kit last Christmas and was relatively non-plussed, having never heard of Soap & Glory. It was only when I opened them and started sniffing, spraying and rubbing about a week later that I realised how lovely they are.
This bodycare set is a complete package of treats, containing:
Clean On Me Creamy Clarifying Shower Gel (500ml, RRP £5)
The Righteous Butter Body Butter (300ml, RRP £9.79)
Flake Away Body Scrub (300ml, RRP £6.50)
Girligo Scented Body Moisturising Mist (100ml, RRP £6.25)
Glad Hair Day Ultra-Shine Super-Shampoo (250ml, RRP £5.11 )
The Breakfast Scrub Body Smoother (300ml, RRP £9.25)
Hand Food Hydrating Hand Cream (125ml, RRP £4.75)
Scrub Your Nose In It Face Scrub And Mask (125ml, £7.25)
Super Colour Sexy Mother Pucker Lip Gloss in 'Pink Apricot,' (7ml, RRP £8.25)
Off Your Face Cleansing Wipes (25 wipes, RRP £4)
Giant Super Sudsy Shower Puff
Quite a lot of stuff for £20/£25 wouldn't you say?
Alongside these gorgeous face and body products is a pink foldable fabric storage box, and the Soap and Glory Pink Big Tote Bag is packaged up in a re-usable super-sized holder, so you can take your Soap and Glory with you wherever you go.
Postage is £2.90, but instore pickup is of course free and cardholders collect 100 points with this purchase.
Thanks to CooliceT at HUKD