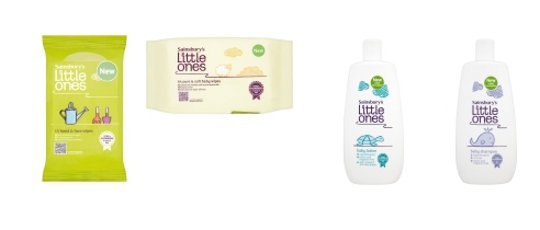 With a baby in the house we certainly receive our fair share of baby products to review and today's offerings come from Sainsbury's, or more specifically the Sainsbury's Little Ones collection.
For review today we received Little Ones Baby Shampoo(£1.08), Baby Lotion (£1.08), Hand and Face Wipes (.59p), Pure & Soft Baby Wipes(£1) and 2x Latex Soothers(£1.89).
First off, toddler  hands are always in one or another stage of dirty, and while using cloth wipes has saved us a fortune over the years, we do use disposable wipes while out and about as you can't always find somewhere to wet the wipes. These disposable Hand and Face Wipes are a perfect out and about size, as they fit neatly into your (my) hand. Each pack contains 15 wipes, so I probably wouldn't use them full time as I'm pretty sure that would equate to over £150 a year, but as I said, for 'out and about' or emergencies they're great.
As compared to many other cheap disposable wipes, they actually smell really fruity and pleasant, with a hint of aloe. They have antibacterial agents and a long list of chemical ingredients, and no note about being hypoallergenic – although they do have the "Tested and Recommended by mums and dads" logo.
The bigger bag of wipes, 64 Pure & Soft Baby Wipes, are labelled as being suitable for newborns and babies with sensitive skin. They are paraben free and are supposed to be fragrance free, but I think that just means they haven't added a scent to it, rather than it having no scent, because these definitely do. They smell quite sweet.
The packaging says that it has easy 'one at a time' dispensing. When I pulled the first wipe out, it tore five times before actually getting the whole thing out. Thereafter they did come out one at a time though, which makes a nice change to the reams of wetwipe we ordinarily get!
The wipes have a pretty little sheep design on them, and they're lovely and thick. I did find, however, using it on myself, that it did sting my skin a little – nothing overwhelming, but there.
Soothers are quite hard to review, because my baby couldn't tell me what she thinks of them, and it would be her opinion that mattered. I chose not to use them (dummies/soothers interfere with the natural birth control method) so I can't give you first-hand information on the soothers. I did, however, like that they were pink and blue, while still being girly with buttons, flowers and butterflies. They are very pretty and considering how many you see lying around the sidewalks, the fact that they are cheap is a bonus. They have ample spaces to put soother clips (those things you use to attach them to clothes?) through and have a 'handle' so baby can hold on to them, I suppose.  The latex bit - the teat - is BPA free.
The latex teat is 'orthodontic' and the plastic is BPA free.
Sainsbury's Little Ones Baby Lotion is hypoallergenic, colour and fragrance free and has added vitamin E and shea butter, which it distinctly smells like. I haven't used it on my children, because I don't use petroleum based products on them. I used it on myself though, and will keep it for myself for a body moisturiser. It is so soft. It leaves the skin feeling silky smooth, absorbs quickly and doesn't leave an oily residue.
Sainsbury's Little Ones Baby Shampoo shares a lot of properties with the Baby Lotion, in that it is hypoallergenic, colour and fragrance free and again, a long list of chemicals, most prominent of which is Sodium Laureth Sulphate which I can't use on my little ones.  The SLS, however, makes it very foamy and you don't need to use much to get a full lather going.
The Good
These products are exceptionally  cheap – you could get everything we got and more for under £10 – which is what I pay for shampoo and toothpaste for my littlies, so I am quite wow'ed by the price.
There are pros to each product, and if you don't have allergies to contend with, you'll probably love them
None of the products have overwhelmingly chemical smells – they may not smell like nature in a bottle, but they don't smell like the cupboard under the sink either.
The Bad
There are just too many chemicals in it for me to use on children that really are allergic. I can't get past the chemicals.
The Verdict
For normal people with normal children and normal budgets, I think these are great products. The wipes are convenient and way better than other 'own brand' types that I've used, and the toiletries offer a lot of value for money!