Nip + Fab And Les Fleurs de Bach Beauty Products Review
This is one of those reviews where you're going to hear about a whole bunch of products in one go, so fasten your seatbelt, and get ready for a strong desire to be pampered.
We received a great big basket full of products and sent them off to mum of one, Tara, to review a few and let us know what she thought.
Nip + Fab Moisture Fix Daily facial Moisturiser - £17.31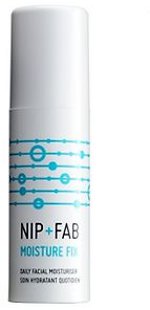 The Nip + Fab Moisture Fix Daily Facial Moisturiser promises to "visibly "fill" and plump the skin, noticeably smoothing fine lines and wrinkles". It sounds like a great promise, so we asked Tara what she thought.
"I have very dry skin so I'm always on the prowl for products that will help ease my skin, especially in the winter months. I loved the way this moisturiser felt on my skin and the fact that it didn't sit and get all oily. In fact, it absorbed really quickly on both my hands and my face, which is great."
Tara continues, "It is light, doesn't have any kind of smell so it won't offend anyone who has a specific or sensitive nose. Also, a little goes a very long way. I like the fact that three squirts has my face, decollatage and back of neck sorted out."
There was a downside, however. Tara's skin felt a little tight by mid-morning, and she had to supplement the lotion with something a little stronger. "But", she says, "I am not overly surprised by this as my skin is very sensitive and takes a beating with the temperature changes of winter".
Considering this, though, Tara feels that £17.31 might be a bit pricey.
Nip + Fab Shower Fix - £12.20
Tara didn't see too much of the Nip + Fab Shower Fix, as her husband actually claimed it for himself!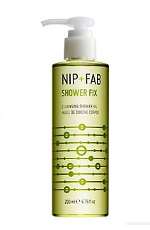 "The smell is so neutral and pleasant that this can be used by both men and women - a complete bargain, although you may not want to share it."
A fragrant and relaxing aroma which also does not dry out your skin, according to Tara, manufacturers say that it is "enriched with gentle oils which cleanse, nourish and protect the skin's natural moisture balance and toning."
"In fact", says Tara, "the husband said that he found his skin felt much better now that he is using this so it is definitely a winner, although I personally prefer bubbles and foam to oils".
Organic Blue Mens Body Lotion - £4.27
Since Tara's husband Alan was so happy to be involved in the testing, we roped him in to do another for us: The Organic Blue Men's Body Lotion.
"The husband was deeply sceptical of this. He isn't exactly a body lotion kind of guy and this wasn't really his cup of tea."

A little gentle persuasion from Tara, however, and Alan dove in with gusto, delivering his opinion:
"The lotion was nice on my skin and not too oily or gooey. It absorbed quickly and didn't leave a sticky residue."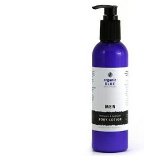 A man of many words, Alan. But he wasn't really sure about the smell, thinking it really was more of a feminine smell - "a little herby and aromatherapy oil, but a personal choice, I guess."
Tara didn't think it was an overpowering smell at all, and they agreed that it was light enough to be worn easily under aftershave.
The herby smell comes from an infusion of Neem, which is meant to help with skin disorders, Mandarin, Ginger and Vanilla, Angelica, Elder, Red lover and Passionflower – so it's easy to see why it could be thought of as a more 'hippy' kind of feminine smell. I must admit, that sounds positively tantalising to me!
Les Fleurs de Bach Creme De Jour - £40.00
Apart from being quite a mouthful to say, Les Fleurs de Bach Creme De Jour is an Anti-Stress Day Cream which comes in a 60ml Amber jar for £40.00
This one Tara simply loved:
"I loved this lotion, I did. The smell was delicious but not overpowering. I cannot tell you if the anti stress properties worked at all, I couldn't test it properly, but I know that I enjoyed the actual cream and the way it made my skin feel so much that I put it on two to three times a day. It made my skin tingle and feel ever so fresh."
That would probably be due to the "exclusive blend of vegetable extracts, hyaluronic acid and natural Vitamin E" in the product description.
"I know that these are quite expensive but I would pay it. Not only does a little go a long way but it also feels amazing."
Les Fleurs De Bach Cleansing Milk Anti-Stress - £20.00
Tara was less sure about this one to start with. "I am not a fan of using cleansing milks. I prefer cleansers that involve water and washing. I feel as if my skin isn't CLEAN if I use a milk and if I use the wrong one then I get spots."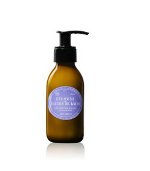 But this one, she said, is quite different. "There is an almost astringent edge to it that made me feel like my skin was being polished and cleaned. It wiped off easily and quickly and didn't leave much of an oily residue. I also got the same tingly feeling that I did with the day cream"
It's priced slightly better than the day cream, at £20.00 for 150ml, so that might be a better option for a trial product to start with.
AND FINALLY...
So there you have it. A few products from the Nip + Fab range, and a few from the Les Fleurs De Bach range, some better than others – at least according to Tara and Alan.
There are plenty more products in each range to choose from – just click on the links above for a full list of each.