If you're looking for a mix and match, pick-your-own gift set for any occasion, the eco-friendly range from Forever Natural might just tick all your boxes. Forever Natural have loads of products that can be combined into one gift, stocking fillers or even replace the toys in home- made Christmas crackers.
We asked PlayPennies mum Tammy to review a gift pack for us, and she has come back with loads of good things to say:
Eco Lips Organic Lip Balm (£3.99)
Tammy loves the organic lip balm. She says, "This stuff is brilliant. Not only do you get lush organic lip balm but it is designed with a caribineer lid! You can just hook it onto your belt, handbag, or keys and voila! Instant lip balm anywhere you want without having to scuffle through your handbag for hours."
The Eco Lips Organic Lip Balm comes in many flavours, including mint, lemon and lime and berry. All lip balms are free of petrolaturm, parabens, sulphates and are non GMO and cruelty free. Most are SPF15, apart from the sports stick which is SPF30 – which Tammy says, "along with the clip for ski jackets and keyrings, is brilliant for runners and skiers."
EO Hand Sanitiser (£2.95 for 10ml)
The plant based alternative to chemical sanitisers, these products are based on essential oils which means they contain no synthetic ingredients, no artificial colours (the selected herbs colour the formulations naturally) or dyes or fragrances, no parabens, no synthetics and no harsh chemicals.  All bottles are recycled PET collected and re-cast into their signature blue bottles - minimalising waste in our landfills.
Each tube comes with up to 100 sprays on the 10ml bottle. Small and compact, it will fit in all handbags and is brilliant for hygienic hands when water isn't about or you have emergency nappy change and would like more than just wipes to clean your hands," says Tammy. She goes on, "The spray smells scrummy – minty and fresh – but it does sort of sink in fast! Some of the chemical ones I've used feel like they are being rubbed around a bit first whereas you need 2-4 sprays to get this to really feel like it has penetrated all the nooks and crannies. You can also get it in Lavender (not my personal favourite though) and I have to say that I prefer this to the chemical variations. They also have a gel that comes in lavender or lemon so that may be more what I prefer (in terms of spreading over hands) than the spray. Still, short of taking skin samples and testing germs on my hands, this seems to work a treat and smells lovely."
Urban Spa Manicure or Pedicure Kit (£7.00)
"Oooohhh how I love a good manicure kit, I do. This one is just lush. You get an emery board, two toe separators, one double-sided foot file, two cuticle sticks and a nail brush. It is a quality set and the separators slip nicely into my toes. They are comfy and nice to the touch. The cuticle sticks are wood and great. I love this kit. I spent hours playing around with it and my feet look fantastic. Great value for money and just a nice stocking filler."
High praise for this kit from Tammy!
Forever Natural Bamboo Back Strap (£8.00)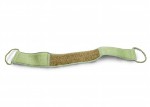 Bamboo has been around for over 4000 years and it is the fastest growing plant on earth. Bamboo production leaves virtually no damage to the soil in which it is farmed and it is one of the most sustainable renewable resources available. All the products in this range are unbleached and sustained through ecological harvesting practises.
Our mum tester Tammy loves this product too.
"I have ditched my old sponge and married this. While it takes a bit of getting used to, it is unbelievably good to use. The one side has a rough jute mesh and the other is made from bamboo. Use the jute side for an awesome back scrub and the bamboo side for all over body wash. The best thing is that you have to use far less soap than you usually do. With my sponge I had to use two to three squirts of my favourite Dove body wash. With this I only use one which I share between each side. Now that's a money saver in itself. The bamboo side is sooft sooooft soooooft. The jute side isn't harsh but juuuust scratchy enough to make my back giggle."
The only negative Tammy raised for this product was that after only three weeks use, she realised that the bamboo side was fraying and coming apart.
Forever Natural Bamboo Hair Turban £10.00
Tammy kind of took the words out of our mouths on this one. She says, "this I did not know what to make of. A hair turban? What's wrong with my towel? This dude is made from soft soft bamboo and comes with instructions on how to wrap it around your head. You have a button on it so you whip it around, hook the back onto the button and, voila, your hair is all snuggled up and toasty."
Interesting, we thought, but what's the point?
Well, Tammy informs us the Hair Turban is supposed to suck the water out so your hair dries faster without the need for a hair dryer.
"I have used it every time I've washed my hair and have left my hair sopping wet, towel dried and damp to test the product. It works really well. The bamboo seems to suck up the damp without becoming heavy and wet itself. It's pretty awesome. I've even used it on my child. She looks ever so cute in it. But it means she gets to go to bed with slightly damp hair instead of really wet hair from time to time. This sells for £10 and, really, is an utter treat for the woman in your life. It is. Really."
And Finally...
So the final verdict on Forever Natural? Well, it is eco-friendly, cost effective and good for you, so what's not to like? We've only shown you a few of the products on offer at Forever Natural, so head on over to their website and see what you could put together for your ideal gift pack. With products that get such great reviews from our mum-tester, it might just be time to treat myself too!