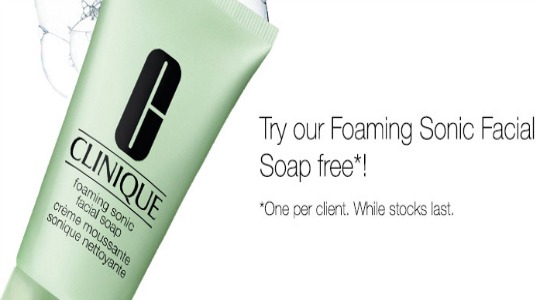 I don't know about you but I am not very loyal to a specific brand when it comes to skincare. I tend to find something works for me for a while then it's like my skin gets used to it, so I like to change now and then. From Friday 23rd January, that's tomorrow, Clinique counters situated in Debenhams stores are launching a great offer. Take in your old or current cleaner and get a ten day supply of Clinique New Foaming Sonic Facial Soap absolutely FREE.
Clinique just have to be one of the bestselling, premium skincare brands in the United Kingdom. I suspect this offer to be very popular so if you are thinking that you love a cheeky wee Clinique FREEBIE, then I'd get in tomorrow or first thing Saturday morning. We don't know how long this is on and you bet that it'll be whilst stocks last so you want to get in there ASAP.
The great thing about this offer is that it doesn't need to be a full bottle, in fact it can be empty. Don't use cleanser? Pop into Poundland or Home Bargains and grab one. This Clinique sample will be worth more than £1.