Green People Fair Trade Products Review

We've reviewed quite a few items from the company Green People here on PlayPennies, because, well, they're brilliant. We wanted to see if it was just us that thought so, or if our PlayPennies mums agreed, so we sent a bundle of Green People's new Fair Trade products to Layla, mum to a two-year old boy.
"I started using Green People's Nappy Balm a while ago, after a review on PlayPennies, and loved it. I have meant to try out a few more of their products for a while now, so I was really happy when PlayPennies asked me to review these three for them."
We sent Layla the Fair Trade Nappy Balm, Baby Salve and No Scent Baby Oil, all made with Fair Trade Shea Butter from a project in Ghana which employs 600 women to make the butter and their baskets for transport.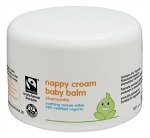 "The Nappy Balm comes in the same pot, and looks pretty identical, apart from the Fair Trade logo on the front. Inside the pot, it's really hard to compare – the Fair Trade Nappy Balm has a slightly sweeter, more citrus smell than the old one, which was much 'headier' as they would say about red wine, I think. The Fair Trade Nappy Balm also somehow looks smoother to me, but my partner gave me a very strange look when I asked him if he agreed."
I couldn't find the full old list of ingredients to compare, but I'm pretty certain Layla is right – I dont remember the citrus undertone in the Nappy Balm I reviewed last year, but still the smell is lovely, and besides, its how it works that matters.
"In its application and use there's no difference, that I can tell. It still has a very marigold (calendula) aroma, and works extremely well on everything from nappy rash to cuts and scrapes – both on my son and myself. "
I know I'm not reviewing it this time, but I totally agree – this nappy balm goes on every cut and scrape in our home!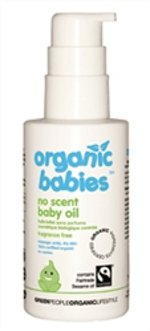 Next in line is the No Scent Baby Oil, which Green People say is perfect as a daily moisturiser, a massage oil and for cradle cap.
"The No Scent Baby Oil is something I wish I had when my boy was a newborn. He had really bad cradle cap and lost all his hair, and had dreadful milk spots too. We attended baby massage classes and the oil we used there was fine, but this just seems so 'purpose-built'."
Green People also say that it would be a good oil for pregnant bellies. "In fact, I wish I had it when I was pregnant as they say it can improve mum's skin elasticity to reduce stretch marks. It does contain sesame seed oil though, so I'm not sure about people with nut allergies using it.
The No Scent Baby Oil spreads quite well, a small squirt can cover my hands, forearms and face, three squirts pretty much cover my son. Although it's an oil, it absorbs pretty well and doesn't leave Jody shaped stains on the sheets, so that's a good thing. It does leave you feeling moisturised too. I certainly haven't spotted a downside to it yet – but then we massage before bed rather than going out in the garden to play."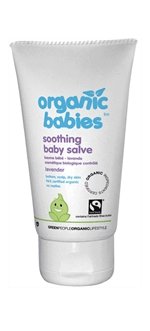 Finally, Layla tested the  Soothing Baby Salve which is a non-aqueous cream, a relief to eczema sufferers, I'm sure. This cream can also be used as a nipple cream for mums.
"This is a lovely cream. It leaves my, I mean my son's, skin feeling really, really soft and silky. It absorbs quickly and like the other products, a little goes a long way."
So, final thoughts from Layla about Green People's new range of Fair Trade products?
"I love the products I was sent, and yes, I will buy them for myself, especially since I know they're full of only good stuff, and have no skin irritants and harmful chemicals, and I think it's great that they've brought out a new fair trade range too and hope that they will continue to do so with the rest of their products too."
Green People products can be bought directly from their website. They have regular specials and discounts in their newsletters and on their website which can be great value for money.