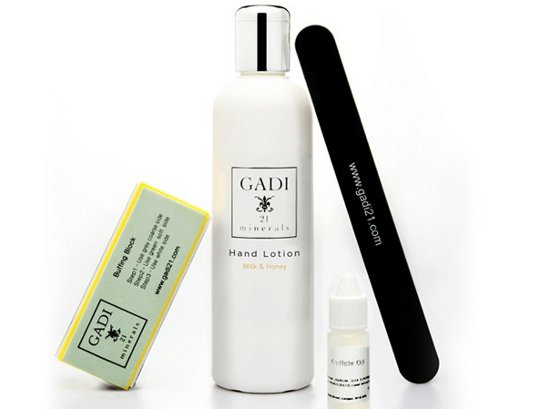 I recently cut through a big deparment store, trying to take a shortcut from where I was to where I wanted to be. I made the mistake of stopping to look for a way through and out when a young lady stopped me for 'just a minute'. You know how it goes. I walked out with a £30 Gadi Mineral Nail Kit I hadn't known I couldn't live without.
In truth, however, I really needed it! I haven't had a manicure in months and months and my nails were showing the signs of nappy changing, dish washing and hours spent hammering away at a keyboard.
So, the Gadi Mineral Nail Kit includes 250ml Hand and Nail Lotion, 10ml Cuticle Oil, a professional Nail Buffer and a Nail File.
It's available in three scents: Milk and Honey, Ocean and Passion Fruit – I went for Milk and Honey.
So, you start with the Nail File to shape your nails. It's a harsh nail file! It really doesn't take much to lose a whole nail to it. Perfect for shaping in just a few strokes.
Next up is the professional nail buffer – this really is the piece de resistance of this set, you can take or leave the rest – this is what you're paying for. It has three 'steps'. The black step is used for buffing the surface of your nails, removing ridges and yellowness, leaving the nail smooth (you can only do this every four – eight weeks.)
Next is the Green step, where you buff across the surface of the nail every two weeks or so, apparently stimulating nail growth,  although I'm not sure how.
The White step is where you shine your  nails, making them look like you have nail polish on, except you don't. This can be repeated as often as you need to, and in my lifestyle, that's every four to six days.
The cuticle oil is nothing fancy, Olive Oil, Soya Oil and Sweet Almond Oil and an unhealthy dose of Paraffinum Liquidum. It does soften and repair the cuticles, it certainly does the job, but isn't a particularly unique product, I don't think.  Even so, it does what it's supposed to.
Finally, the Milk and Honey hand lotion is again a concoction of chemical and artificial ingredients, topped off Avocado oil, Dead Sea Salt and Chamomile extract. It is very watery, a little goes a long way, spreads easily and absorbs quite fast. It doesn't leave your hands feeling oily, but soft, and finishes off your professional looking at home manicure. Most of all, it smells amazing.
Really, I think this is £30 well spent, especially if, like me, you don't have time or money to have your nails regularly done.