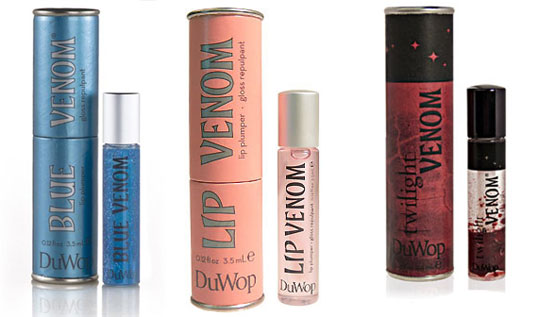 I like to try new, and different, things but when I fall in love with something I'm very loyal; DuWop Lip Venom is one of those 'fallen in love with' things and I haven't been without it for at least the last 10 years!
I discovered it around the same time as I found, and fell in love with, Blinc Mascara; it's a spicy lip gloss that contains various ingredients that react with your lips to plump them up a little bit and makes them look AMAZING.
If you want your lips to look fuller without resorting to having things injected into them then you really need to try Lip Venom.
The key ingredients are Cinnamon, Wintergreen and Ginger which work together to make your blood rush to the surface of your lips - this is what brings out their natural colour and makes them swell a little bit.  And it is a little bit, enough to transform your lips into a beautiful feature, not enough to make you look ridiculous.
Lip Venom also contain Jojoba and Avocado to keep your lips soft and supple and kissable.
It might take you a little while to get used to the warm, tingling sensation in your lips after you apply Lip Venom, but it's not unpleasant - I actually think it's rather nice.
There are various different Lip Venoms and none of them are  - DuWop Lip Venom costs £15 for 3.5ml, so not cheap even if you compare it to the high end lip glosses on the market, BUT it lasts for AGES, even when you use it a LOT like I do!
There are various Lip Venoms available now - my favourite has always been the original (it's clear), but I'm VERY tempted to try the new Blue Venom which is said to make your teeth look whiter because of its blue tint.
There are also tinted Venoms and all of them come in little glass vials, with a brush fixed into the lid, that come packaged in  reinforced cardboard cases.
The cheapest and most reliable supplier of DuWop Lip Venom I've found is www.beautybay.com - the only thing you need to do now is choose which venom is going to be your poison.
If asked to score DuWop Lip Venom out of 10, I'd give it a 9 out of 10 with that one mark being lost due to the price - it might be just a little too expensive for some.