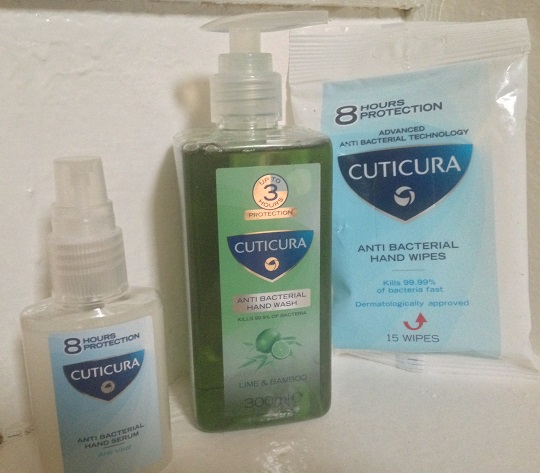 As parents and carers we know that a little bit of dirt is good for kids. It helps build up their immune system, and you don't want to keep them away from all germs. A sterile environment isn't good for them.
But there has to be a balance because frankly stomach bugs, especially when it comes out both ends, is not a lot of fun either.  There's bugs, and then there's bugs. A trip to the museum for instance involves trains, buses, hand rails, escalators, and goodness only knows what sorts of germs you're coming into contact with.
The entire population isn't dropping dead from the plague though so obviously, there's nothing that's going to kill you. Just the minor, messy stuff you want to avoid.
With various applications and situations in mind, this week I'm reviewing three anti-bacterial products from the Cuticura range. Anti-bacterial handwash, hand serum, and hand wipes.
First up is the Cuticura Antibacterial Hand Wash, in the lime & bamboo fragrance (300ml). There's also ginger and manuka honey, and black pepper and pomegranate. The best deal I found for it was 99p at TJ Hughes, if you're doing it as part of a bigger shop (delivery is £2.49).
The hand wash is meant to protect you from bacteria for up to 3 hours. Plus it contains moisturiser to keep hands soft. I have to say I wasn't sure about the scent. It is unusual. But it isn't very strong so not a big issue.
I would say that the moisturiser works fairly well. It isn't going to leave your hands silky smooth but you won't feel like you've washed in dishwashing liquid either. Even if it is disconcertingly the same colour as my Fairy Liquid.
Next I tried out the Cuticura Anti Bacterial Hand Serum (50ml, £2.49).This is in a 50ml pump action container, and was the perfect size to take camping with us at Easter. Unlike the usual stuff we use, it comes out quite thick, and takes a bit of rubbing in - it doesn't disappear on your skin. This is an alcohol free serum. It protects for up to 8 hours and claims to leave skin feeling silky soft. Which, surprisingly enough, it did.
Finally, the Cuticura Anti Bacterial Hand Wipes (£1.49 at Superdrug) also provice 8 hours protection. They come in a small sized packet, and you get 15 wipes in the packet. Just about the right size to carry about in your handbag, and very handy for moments you're caught short, like toilets without any soap.
Alcohol free, they were fine in my hands and on my son's sensitive skin too. I can't test out the claims of protection of course. For the most part these wipes were pretty much like all the other hand wipes I've used for grown ups and older children.
My overall verdict is that I probably won't be buying the hand wash again. We don't really need the anti bacterial stuff in the bathroom. But if we had a baby still in the house I definitely would. Likewise I don't really see the need to spend more on the hand wipes just to get anti bacterial ones.
But I will definitely be buying the hand serum from now on. It was a good price, and is really nice on my hands. I preferred this to the other stuff I normally use! The only problem that I can see is that it is such a new product, it doesn't seem to be on the shelves of many stores yet.