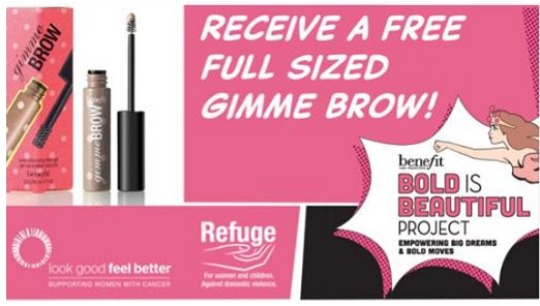 Do you love Benefit Cosmetics? I know I do. They have quite an impressive range of make-up for brows. You can check that out here*.  If you are in the need to tidy up unruly brows, then this deal might make you consider going to a Benefit Beauty Bar to get them waxed. Get an Eyebrow Wax done in May, by Benefit, and get a FREE Full Sized Gimme Brow worth £18.50.
It's amazing how groomed eyebrows can frame a face. I love doing my eyebrows. I tint, wax and use a Brow Palette daily. You don't need to be high maintenance with them to make them look good. Get someone to tidy them up, waxing is my preferred method and trust me I have tried many. It's quick, easy and the regrowth rate is fairly slow as you are lifting the hair by it's root.
Benefit have Brow Bars all over the United Kingdom at their Cosmetic Concessions in places like Debenhams and House of Fraser. They offer a brow wax for around the £11.50 mark, although I think the price varies depending on location.
This offer is part of their Bold is Beautiful Project currently running at Benefit, which is in support of charities Refuge and Look Good Feel Better.