Beauty Lab have sent us a basket of goodies to review for them, and we handed them over to in-house beauty aficionado, Tamsin, to test out for us. Over a cuppa we discussed the products from KSBL and Beauty Lab's own brand.
As it turns out, the KBSL's Bubble & Squeak wasn't really 'aimed' at Tamsin, so she passed it on to her teenage sister.
"This product was for a younger skin and so I sent it off to my sister, Nadia, to test for me," she said. "She loved it. In fact she had heard of this range before and it apparently is quite The Thing for her to have been given it for free. We both rather loved the name too. How cute is Bubble & Squeak for a face wash?"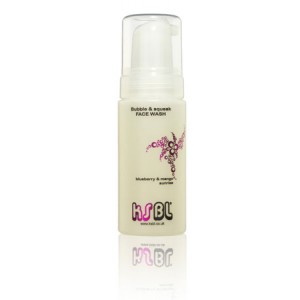 Tamsin's sister suffers from really oily skin that can break out badly without any warning and so she has to be quite careful of the products she uses and how they react to her skin.
"This", she said, "was extremely gentle and lovely with an excellent foaming action."
Tamsin tried some on her hands in water and it does have a wonderfully creamy texture that appeals. The smell is also quite something else: Blueberry and Mango.
"You could almost eat this and get your five a day", she joked. While she liked the smell, she's not sure she could cope with it on a daily basis. Nadia loved it though and uses it twice a day.
"It's personal choice", said Tamsin, "and I think she is the right target market here."
The price is also excellent at only £6.99 for a product that doesn't dry out skin or make it too oily, comes in a well-designed bottle with a press action lid, and is very creamy and satisfying to use.

Tamsin also sent the KBSL Leopard Lilly Moisturiser off to Nadia. The sisters pointed out that these products were targeted at mums and younger women, rather than teens, but if you're used to your anti-aging products, they're not for you.
Both sisters tested the moisturiser, and Tamsin hated the smell. "When it first goes onto my hands it smells really fresh and lovely with the honeydew taking the dominant top note. Once it is on my skin, however, the melon kicks in and it is foul. I really, really don't like it and won't use it again."
"Nadia didn't have this problem. And on her the lotion smelled fine so clearly it's my body chemicals reacting to the scent somehow. The lotion goes on smoothly and isn't too rich and heavy. However, it is a bit sticky which is a downside. For me this is a no. I do not like the smell at all and the stickiness put me off. Nadia said she liked it but wasn't in love with it. She wouldn't buy it. Not a winner here I'm afraid."
If melon and honeydew are your thing, however, you can buy it for £7.99.
In the complete opposite, however, Tamsin loves the Beauty Lab Intense Moisture Rescue Crème.
"This product is my new friend. I love it."

Tamsin suffers from very dry skin, especially in this climate. Her skin is sensitive and doesn't appreciate the change from hot to cold to hot in winter at all. This lotion delivers a truly fabulous and creamy lotion for your skin that absorbs quickly and feels great. "I've been using this on my hands, neck, back of neck, décolletage and face for about a month now and I haven't had any sensation of dryness at all".
The lotion also goes a long way, she tells us, and "one squeeze of the easy applicator and the lotion slides out in one blob that will cover your face and décolletage in one. You will likely need another half squeeze for hands and the back of your neck.
Other bonuses of this cream are that it absorbs really quickly, and is beautifully rich." Tamsin was almost sure she could feel it working.
Although the Intense Moisture Rescue Crème is meant as a body cream, Tamsin loved it on her face, but felt it worked well wherever. She hasn't replaced her face cream with it, but loves using it during the day as a pick-me-up for her skin.
"I have found that my skin has reacted very well to this cream and that it hasn't brought out any outbreaks either - so not too rich, then. I think this deserves very high marks for its deliverables and it has made me convert to a range that I didn't even know existed before. I will be buying products from them in the future."
The Intense Moisture Rescue Crème is £18, and as with all the products you can find it at the Beauty Lab Shop.