Baby Freebie: QV Skincare Samples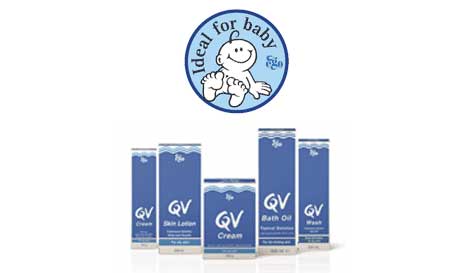 You can't beat getting something for nothing!
Unless you've been to Australia it's not likely that you'll have heard of QV Skincare for babies.  It's the Aussie's favourite moisturiser and is often recommended by dermatologists there and is being launched here.
It's was developed to help treat skin issues and maintain its health and let's face it, if it can do the job under the fierce glare of the Aussie sun and their climate then it's going to have no trouble with our UK skin!
They product range includes bath oil - which is great stuff in general, if you've never used it before then definitely try some if it's included in the free samples!
There's also cream in a tube, or cream in a tub, skin lotion and body wash if you really don't like the idea of the bath oil.
I have no idea whether you'll get a sample of everything or just some of the QV products but I'm pretty sure that they're going to be up to the job of looking after and nourishing scrumptious delicate baby skin.
Thanks to pinkmelonsmr2 over at HUKD!