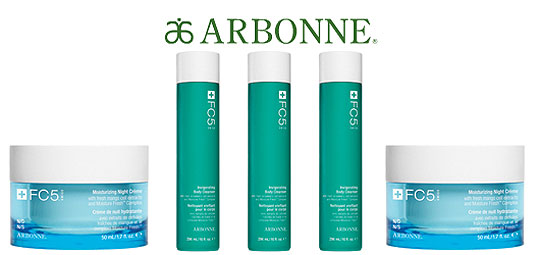 If you haven't heard of Arbonne before don't feel left out, they're new to the UK and are, apparently, set to 'take the UK by storm in 2012' - they sent a couple of their products to Tamsin to review, here's what she thought of them...
FC5 Invigorating Body Cleanser

Arbonne say their FC5 Invigorating Body Cleanser hydrates as it cleanses and leaves your skin feeling soft and supple and for 296ml of it, you'll be paying £20.
Tamsin has been using the FC5 body cleanser for over a month and has mixed feelings about it - the first, and most obvious, being the price.
"At £20 a bottle I am rather taken aback by the cost," she says, "I know it has lasted me well over a month already and is still going strong but that does seem like a lot to pay off the bat."
She goes on to explain, however, that even after a month of regular use her bottle of FC5 Invigorating Body Wash is still going strong, due mainly to the fact that you only need one or two squirts of it per shower.
Tamsin's next 'issue' was the smell, "I don't really like the smell if I am honest," she reveals, "there is a base note that reminds me of nettles. Some people will really like it, and have commented on it, but it isn't for me."
The upside, if you don't like the smell, is that it doesn't stay on your skin for hours so doesn't interfere with body lotion or perfume.
Another upside is the FC5 Body Cleanser is actually a product that does what it says it does; Tamsin can suffer from dry skin if she doesn't look after it and moisturise often, she's rather impressed with the results she's experienced with FC5.
"I haven't had my usual dry skin with this, which is a big deal, so I have to admit that it does what it promises it will do. My skin doesn't have that tight pulling feeling I get when I am in the midst of winter," she continues,"and seeing as I hate that feeling, this gets a big fat thumbs up!"
Tamsin does admit she can't say that her skin is, and I quote, "...all youthful looking," but as, and I quote again, "it hasn't wrinkeled up and fallen off I can say that the FC5 is doing a fair job of it all."
Well you can't say fairer than that!
Pros and Cons
Pros - the quantity you get, very long lasting even with regular use and the moisturising quality
Cons - price!
FC5 Moisturising Night Crème
Arbonne say that their FC5 Moisturising Night Crème is a rich moisturising crème  that will nurture your skin whilst you sleep, which will help to maintain young, beautiful skin and for just 50ml (1.7fl oz) you'll be paying £42.
WOW! The price of this FC5 Moisturising Night Crème makes the FC5 body wash look like an absolute bargain and two people had two very different experiences using it, one being Tamsin (obviously) and the other being a beautician friend of hers.
"Oh dear," Tamsin says, "my beautician friend couldn't use this FC5 cream at all as it made her eyes puff up and stream. She did confess that she is very sensitive to some ingredient in some creams so that clearly is in this bottle."
Tamsin, on the other hand, had a much better experience with it, "The skin on my face has felt like paper lately thanks to the antibiotics," she reveals, "so lathering this on every night has felt like heaven."
She describes the FC5 Moisturising Night Crème as being rich and creamy, thick and yummy.  To say that Tamsin is utterly in love with this cream would possibly be the understatement of the entire year.
"I LOVE this cream!" (see, told you!) "It makes me think my skin looks young and wrinkle free just because of the thickness and the quality. The smell isn't too bad here, especially for a night cream, and my skin is showing joy when I use it."
The joy, however comes to an abrupt end as soon as you remember that the little 50ml pot of joy is going to set you back the best part of £50!
"The price of this night cream is pure pain and suffering!" Tamsin says, and I am in 100% agreement with her, "THIS is a luxury Christmas gift and in spite of loving the lotion, and finding it a pleasure to use, I would not spend £42 on it; I wouldn't! Call me Scrooge if you like but it's too much!"
Tamsin rants goes on to say she can get the same soft and silky feeling skin using the £20 Boots Number 5 equivalent.
Pros and Cons
Pros - gorgeous, silky, creamy, lush
Cons - price, price, price, price and PRICE!
And finally...
Summing up Tamsin's experience with the FC5 Invigorating Body Wash and the FC5 Moisturising Night Crème is simple - both are fabulous and both are expensive.
The body wash does exactly what it says it will, lasts a long time, leaves Tamsin's skin feeling amazing and, despite its £20 price tag, she'd definitely buy it again.
The moisturising night crème on the other hand is far too expensive to consider, even though Tamsin fell in love with it and loves how it makes her skin feel.  So it all comes down to how much you're prepared to pay for soft, silky skin, and/or how often you can persuade someone else to buy it for you.