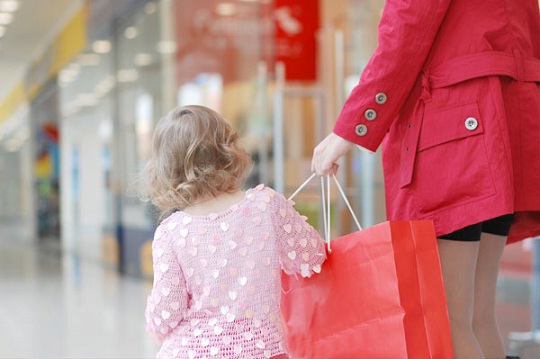 I'm not talking about supermarket shopping here, although certainly some of these can be applied. But those times when you have to take them with you to the shopping centre, to buy clothes and other essentials.
My top tip would be to do this online and save yourself the hassle! But of course real life never works out quite that way. Shoes can be tough to buy online, and you're never exactly sure of the fit of some clothes. Having to send them back and get a replacement may take time you don't have.
Shopping with the kids in tow can often be a pain for more than one reason. Apart from the toll it takes on my sanity, I find I end up spending more just to get it all over and done with faster.
So I asked around other parents to find out what they did to keep the little tykes happy. Here's what I found out.
 1. Effective use of treats
This seems to be the most effective way to ensure a shopping trip that's both peaceful and productive. How it works though really depends on your children - you know them best. Keith, for example, refuses to allow any treats until after the shopping is done, whereas Dominic told me that by getting this out of the way early on, his kids are then quite happy to toodle along with him and his partner for the rest of the shopping trip. Treats don't have to be sweets or chocolate. These are best avoided for your own sanity, as the last thing you want is a sugar rush in a crowded shopping mall.
Dominic lets the children all buy one special thing that they really want, something not too expensive but more than they might usually get. Like a magazine, or money to spend in the pound shop.
Kerry has a fabulous playground near her shopping centre. Far enough away that they don't really get to go there that often so it is a real treat for the children. "Both my two boys and my daughter get between half an hour and an hour of running around in the playground, knowing that in return I get my shopping time. It has worked out really well so far!"
On the other hand, Keith promises his children a trip to Macdonalds after shopping "We never go to Macdonalds apart from when we have to go on a shopping trip, and now that they're getting a bit older they're even asking to go clothes shopping so they get their treat!".
2. Give your children something to do
Set them a task or give them some jobs to do. This work really well in the supermarket, where perhaps it can be up to them to run to the aisle and get the cans of Spaghetti Hoops, or pick out the apples. In a shopping centre though you may be more limited. Present buying can be a good one, or making it a little bit competitive. Who can find a winter coat they really like first?
3. Know where you are going
Before you go out on the shopping trip, work out exactly what you want to do or achieve. And then work out a good route. The top tip I came across here was to start with the store where you'll do the most shopping so you can quickly get the bulk of it out of the way. It might not be the logical first place to stop - you may need to do some backtracking. But in terms of getting the job done before the children's boredom threshhold is reached, it works a treat.
4. Go early
Do we really need to put this one in? Well actually, since my local shopping centre gets unbearably crowded after midday on a Saturday, I guess we do. You know, and I know, it is so much easier to shop when there's less in the way of crowds. And much easier to handle the kids in the shoe shop when you're not number 100 in a queue that's still at number 40!
5. Know what you are getting
Again, I feel like I'm stating the obvious. But sometimes it needs to be done, and this is the one thing I never, ever do. And I always regret it. Make a list of what you want to get, or achieve, before you go. But, take it that one step further and write the list in order of priority. What you really have to get done (eg buy school shoes) down to what would be great to have done, but isn't that essential (stock up on underwear).