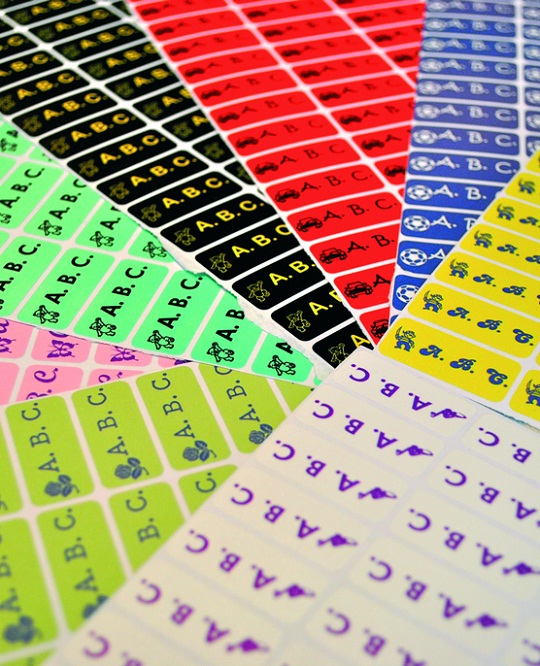 An iron-on name tag that is guaranteed never to come off? That's the claim made by My NameTags, an online provider of printed iron-on and sticker name labels for clothes and other equipment. My reaction when I read this? Outrage.
How dare these people taunt poor parents with such ludicrous, outrageous claims. Don't we suffer enough every term trying to make sure all our children are sent to school in pretty much the correct uniform that's at least partly fitted with sewn in labels, followed by mostly named with iron-on labels that are already peeling off, and finally rounded off with scribbled names in fabric pen. Or after one particularly hectic summer holidays, marker pen.
Then I thought, hang on a moment. What if this is true? What if these iron on labels don't rinse off clothes in the first wash, or peel off after spending a day on a sweaty wee body in an over heated school? Even if they don't last forever exactly, what if they stay on for a WHOLE TERM. I felt almost giddy thinking about it. Never having to sew a label on again? I had to at least try them out.
Here's a tip: marker pen will soak through fabric and show up on the other side, especially on white shirts, to the derision of class mates, and consequently never be worn again. Total false economy - avoid!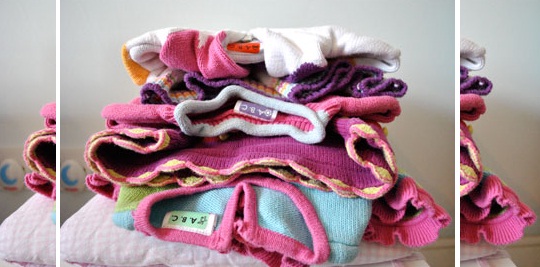 There are two types of labels, stick on and iron on. The iron on labels are best for clothing, while the stick on ones are good for lunchboxes, pencil cases, and even toys. We used some of the stickers on the toys we took along to a big, all day picnic. Worked really well. I got the idea from the website itself where one customer had written in to say that her son had used the stickers for this purpose as he was sick of his baby brother touching his stuff!
The labels also come in either black and white, or colour.For £9.95 you can get, in black and white, 75 stickers & 75 iron on labels, or 180 stickers, or 120 iron on labels. The same price will get you either 56 colour iron on labels, or 56 colour stickers.
Now, my local uniform shop sells me a roll of iron on labels for £2 so that seems a bit steep. But the roll isn't personalised - I have to write his name on them and by the tenth item my writing is getting a bit ropey. And then I have to iron them down again after every wash, and replace them about once a term sometimes more.
I've only had about two washes out of the My NameTags labels so far, but the labels seem to be almost melded into the material. No peeling, no need to iron down, even in a really hot wash for the whites.
You can get up to three lines on the labels, so can be handy for popping allergy reminders on things like lunch boxes etc. Especially useful if, like me, you use holiday clubs.
I've used name stickers before on his lunch box, and they just peeled off pretty quickly. So far, these stickers have stayed put. The same on the special pencils, and pen, that my son uses.
You do need to make sure you keep safe the pieces of silicon paper you're given for the iron on labels. I didn't read the instructions the first time I went to use one, and tried ironing it straight onto the label. If you want to know what happens if you iron directly instead of using the paper - it sort of melts the label a little, and smears the writing. Not good!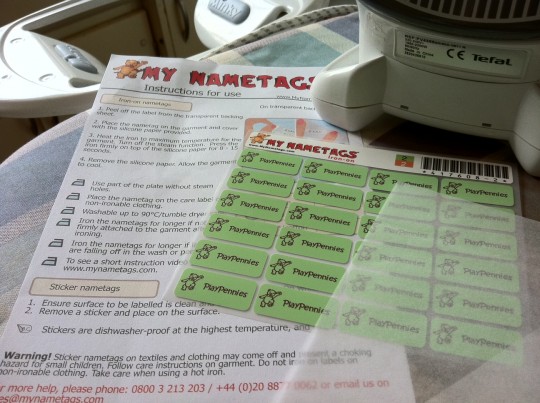 There are a lot of little images to choose from, and it can be fun for the child to go through them and pick one they like. Name tags can be delivered in just two days. Ours arrived really promptly, just with first class mail.
Will I be using these name tags in the future? Yes I think so. I'll still use the sew in labels for the really expensive items like his coat and his blazer. But it just takes so long to do. For a pair of trousers that only cost a couple of quid it doesn't seem worth it. Since using proper named labels though, my son hasn't accidentally swapped during PE, or mislaid any item of clothing including his tie. Result!
Pros: a good size, really do stay on clothing and other items
Cons: I'll come back at the end of the school year and update you on whether that stay-on guarantee is worth paying nearly ten pounds for!
Overall verdict: 9/10