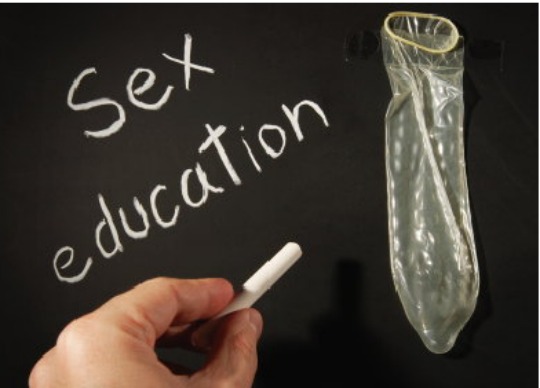 My eldest son is eight years old, and he brought me home a lovely booklet. What was it about? Sex, that's right S.E.X. Just to clarify, he is in primary 5 at school, this is when sex education is introduced to them. To say it took me by surprise, is the understatement of the year. But the biggest shock wasn't until I read the booklet that had been handed to my little boy.
As I sifted through the pages, my mouth gaped open. The booklet is about opening up about sex and close relationships. To me that's fine but do they really need to know that at such a tender age?
My other half and I had a bit of a debate about this hot topic, and here's how it went:
Mrs No: I don't see the need for an eight year old being handed a booklet about sex. Why must they be taught adult issues when they are so young?
Mr Yes: I think in this day and age, children should be educated at a young age, about the dangers and what sex entails.
Mrs No: But, why do they need to know when I don't wish for my child to be sexually active until he is at least 16 years old.
Mr Yes: Due to recent events, involving many older celebrities, I feel it is vital now, more than ever, to educate our children about anything involving sex.
Mrs No: I don't want our son to learn about abortion or masturbation, so young. By teaching about sex, you are opening a can of worms and these topics must be taught too, for a fully comprehensive idea of what sex is. Is an eight year old mature enough to cope with that information?
Mr Yes: Regardless of whether they are mature enough or not, it is our duty as parents to safely educate our children as it is so easy for them to be exposed to such matters, due to the growing number of young children who are online these days.
Mrs No: In our day, we got the period and wet dream talk in P7. Why on earth does it have to be more detailed than that at this age?
Mr Yes: When we were younger, it was not as socially acceptable to talk about sex and issues that surround, for example abortion. All you have to do is switch on the television and watch any modern day soap. These issues are shown in abundance. We don't want our children getting a warped sense of what sex is or the issues around it.
Here at PlayPennies, we would love to hear your views on this touchy topic. At what age do you believe is right, to teach about the birds and the bees? How much should we tell our kids? Join us on Twitter @PlayPennies or on Facebook here