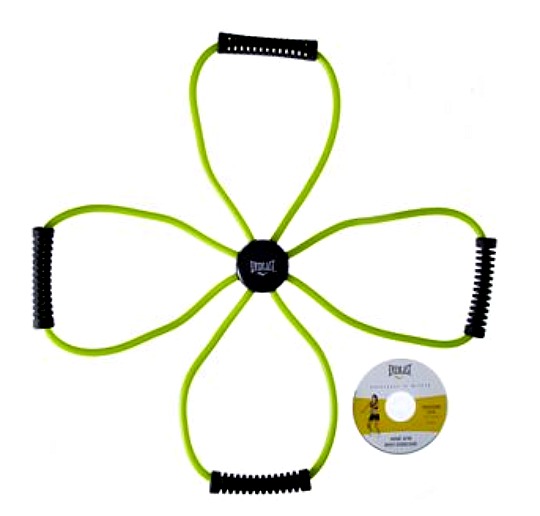 The Everlast Home Gym Body Exerciser is available from QVC for £13.00. It's billed as home gym body exerciser, and is basically a piece of resistance tubing which comes with a very cheery training DVD.
Did it transform me from a wibbly pile of post-Christmas bulges to a lean, mean, resistance training machine? Is it really the equivalent of a home gym in a box no bigger than a dinner plate? Read on to find out...
 Ok so let's get the marketing claims out of the way first. The packaging describes the Everlast Home Gym Body Exerciser from QVC as follows:
"Full body workout without all the bulky equipment. The Home Gym Body Exerciser is truly the perfect at-home gym. Target your upper and lower body and core. Multiple exercises are possible with varied resistance. Resistance training builds lean, strong muscles that keep burning calories even after your workout."
I think I'm probably not quite the right target market for this product. I have membership of my local gym, and I count time spent running on the treadmill as virtually essential for my mental health, so I'm not particularly looking for exercise equipment that I can use at home. (For me a significant part of the appeal of exercising regularly is getting to leave the house, alone!)
But for someone who is housebound or limited in their local resources or in their own mobility, I can see why the Home Gym Body Exerciser might be appealing. Here's a fairly typical review of it from the QVC website which also makes that point:
"I first bought this for my Dad (in his 70s) who was looking for something simple to exercise with. He loved it and I liked it enough to order one for me too. The DVD contains a workout that can be done by people at most fitness levels, and you can adapt the resistance to make it more challenging. It's much more adaptable than I expected if I'm honest, so really pleased. It won't replace the gym, but it's a great way to have something really accessible, storable, easy to use and flexible in the intensity of resistance you want to achieve. Recommended to users of all levels."
Personally this doesn't come close to 'replacing' the gym for me (mainly, as I've said, because the gym's real appeal is getting to run away from the house for an hour or so) but if you're looking for an accessory to help you keep fit at home, then this is a pretty decent option, and excellent value too.
The resistance tubing allows you to target your biceps and triceps, and also helps with training core muscles, strengthening legs and tightening buttocks. You're basically able to complete multiple exercises whilst varying the resistance, and the accompanying DVD is specific workout / training program designed to be used with the resistance tubing, so you don't have to worry about whether you're using it properly - just follow the instructor on the screen.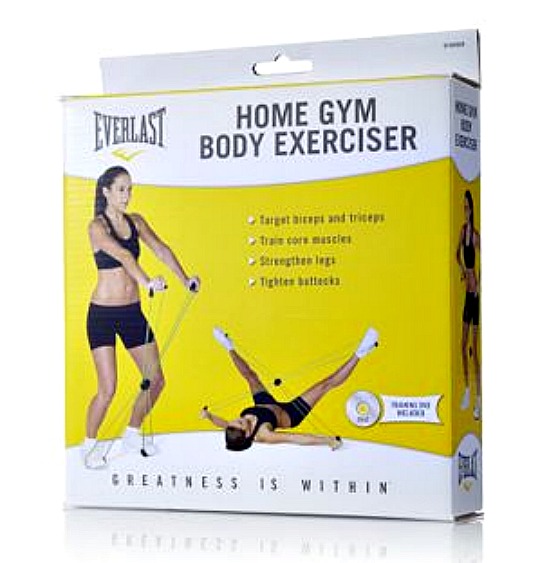 I've got to be honest and say that I didn't love the DVD - although it did make my children and I laugh out loud. The woman presenting the exercises is v-e-r-y upbeat and smiley, and it was just too much for me to handle on New Year's Day early in the morning! But admittedly by the time I'd watched the whole thing I was feeling weirdly motivated, and found myself contemplating a daily Home Gym Body Exerciser routine.
The exercises are definitely effective - we felt the burn within the first few minutes - and the resistance tubing is good quality, and certainly helps target specific parts of your body. It's durable, and not the kind that easily pings back in your face when you least expect it. The easy grip rubber handles are a great additional feature too, and you can move them around to position your hands and feet wherever you choose.
I have no doubt that you'll see results with this pretty quickly if you used it on a regular basis, and I can see how the training DVD could become strangely addictive. The instructor definitely gets under your skin and makes you actually want to leap around your living room with a piece of green rubber. And with her own amazing abs and frankly stunning body on display, it's hard not to feel compelled to want to give 110% percent to some serious exercise. It's just that this form of at home exercise is not quite my personal cup of tea.
Towards the start of the DVD the instructor urges you to clear your 'office, living room or hotel room' of distractions such as pets and children, and I found those sort of details a bit off-putting. Would anyone really take this with them to a hotel? If I was staying in a swanky hotel I'd be in the gym (or better still the jacuzzi), not holed up in my room with a bit of resistance tubing. And if I was in a budget hotel without gym facilities then I think I'd be consoling myself with a large cocktail, not targeting my abs with my piece of tubing. But that's just me.
Seriously - if you want to make a difference to your fitness this New Year then you'd do well to invest in this - it's cheap and affordable, looks likely to yield decent results, and is super easy to use with minimal additional outlay or effort.
But be warned - the DVD may well drive you bonkers, or at least give you a right good laugh - which I suppose is an abdominal workout of sorts.
Pros Excellent value and easy to use, assuming you have space to exercise and a TV and DVD player on which to watch the training DVD. Quite good fun, which is a major plus when it comes to exercise.
Cons The DVD is almost comical - but I suppose that could count as a Pro to some?!
Overall verdict A brilliant solution if you want to do something about your fitness but have limited mobility or need to exercise indoors. It'll never replace the gym or an outdoor run for me, but at £13.00 for a pretty decent indoor resistance training workout that you can use as often as you like, this is worth investing it.