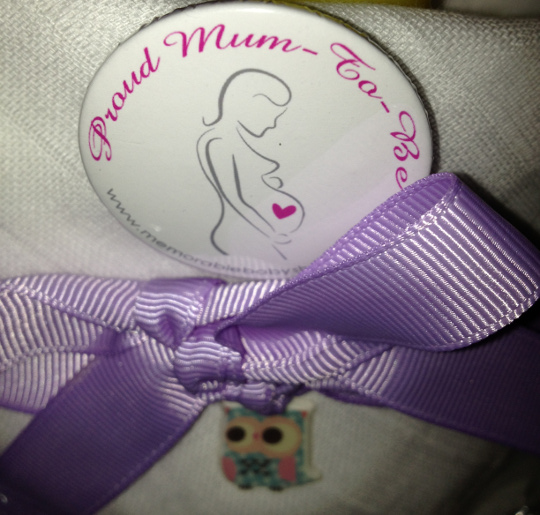 When I had a babyshower for my first baby, my bestie made an amazing, as-tall-as-me, 8-tier nappy cake that it took two grown men to carry out to the car after the party. It had enough nappies for three months, and was filled to the brim with 'flowers' made from baby clothes, baby shoes, bath products, treats for me, and everything I could imagine ever needing. She pretty much stocked our nursery for us, single-handedly.
Every time I review a commercially made nappy cake, I realise how much effort she put in to it.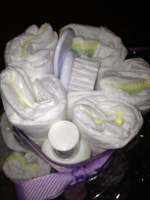 We received a 3-tier nappy cake to review from Memorable Baby Shower, and in short, I think it's one of the better 'nappy cake' style products I've reviewed so far as far as value for money goes.
If you're buying a gift like this for someone, you're buying it for the pretty, the cute, the wow.
It's not the most cost effective way to give friends gifts, but it is a really nice gift to receive. Memorable Baby Shower offers a variety of different options, including two and three tier nappy cakes for £20 and £32 respectively.
If you compare those prices to other similar gift services these are much better value for money for all the things they include.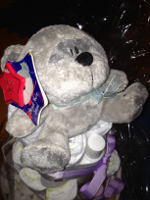 In the three tier nappy cake, we received 38 Pampers nappies, Johnson Baby Shampoo, Johnson Baby Oil, Palmers Massage Lotion for Stretch Marks, Mum to Be badge, a baby brush and comb, a muslin and a little teddy bear topping it all off.
As a first time mum I would have loved this, and thought it was a really thoughtful, lovely, cute and useful gift. Personally I don't use Johnsons products on my children at all, but I know we're in the minority there.At least these are the travel sizes, so if your baby reacts to it, you won't be wasting too much.
The nappy cake is really nicely put together, with the nappies rolled up and around a tube in the centre of the 'cake'. They've put the toiletry products in with the nappies so you see them dotted around, and it does look very sweet. The bottom, largest layer, is held together by a muslin, the second layer by a ribbon and the top layer too. In the centre there's the tube that keeps it all standing up, and inside that I found the comb and brush. It's all covered in a cellophane wrapper and would make a lovely centerpiece or decoration at a babyshower.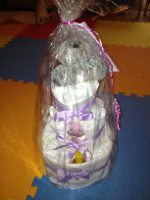 The only thing that I thought detracted from the contents of the gift was the massage lotion for stretch marks - it's just a sample size, enough for one, maybe two uses.
Personally I'd rather leave it out because it's so little it's almost pointless. The website is pretty basic, which makes it easy to navigate, but for a business going forward they could do with making it a bit more professional looking, and updating the images to reflect the niceness of the product would stand them in good stead too - it's all much nicer than it looks on the website.
I'd also want them to add product options. Its such a nice gift - especially the three tier cake - that I'd happily pay an extra £10 or so to have different, organic, natural and better for my babies options in toiletries.
They could stick to sample sizes if they wanted and give people the option.
The Good
The nappy cake is a really lovely gift idea.
It acts as decor for a baby shower, which is useful, and is practical too.
A nappy cake is always a talking point. It's fun and nice.
There's a good supply of nappies, enough to keep you going for a few days. They're also size 2, which is very thoughtful as most of the new baby gifts you get are size 1, so this is the next size up, giving you a bit of variety.
There are some really nice little touches: a sticker, a badge, a peg - just stuff to make it look pretty.
The Bad
Disposable nappies, bane of my existence, but it's the way of the world. I know someone who made a nappy cake with reusable nappies, but it cost a fortune!
Lack of flexibility in the product options
The website needs an overhaul
The Verdict
I think it's a gorgeous idea, a lovely gift and very nicely done. I think the little touches are really sweet too. I wouldn't personally buy one right now, because I don't like the products they include - my daughter has terrible reactions to Johnson and Johnson baby products - but I know I'm in the minority on that, so if you use those products, you'll love the nappy cake.