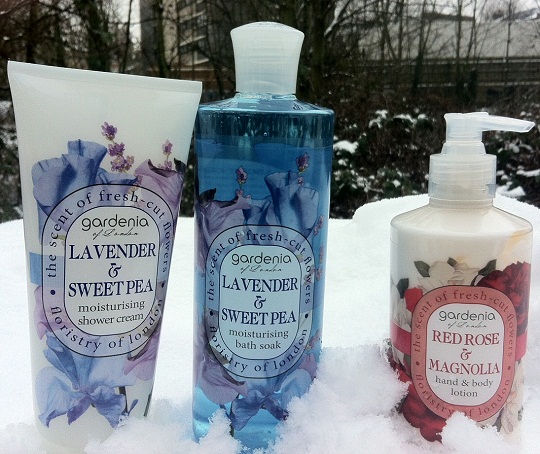 At first I thought I had made a mistake. I'd gone to the website for a range of luxury bath products scented as if they were made from fresh cut flowers, to find myself looking at selections of freshly cut flowers.
Gardenia of London is a florists that will do arrangements for your wedding or any other occasion. And also provide luxury bath and skin care products. Maybe that's not as strange as it might sound, after all the perfumes we take for granted all came originally from flowers and plants.
As you can tell from the photo, we were knee deep in snow when these bath and body products arrived. The timing was excellent. Anything to help brighten up my day, warm up my bathroom, and give me a glimmer of spring was very welcome indeed.
Lavender & Sweet Pea Moisturising Bath Soak
I have to admit I wasn't too thrilled to get the Lavender and Sweet Pea Moisturising Bath Soak (500Ml £2.99). When I was a teenager, every year on my birthday an aunt would give me lavender scented cologne, soap, and bubble bath. It wasn't expensive stuff, and I have to say the scent was a little bit chemically. Being a dutiful niece, I would use it but I have to say that the smell put me off lavender for a long time.
The lavender and sweet pea aroma of this bath soak does not have that chemcial overtone! It really does smell like lavender fresh out of the garden, which is a scent I do love. So that was a relief.
Out of the bottle, there was a tang to the scent that I think comes from the soap. It might be from the sweet pea - I have no idea what sweet pea smells like! It isn't at all unpleasant though. I found this made for a soothing bath, and I only needed to use a little. I just put in about a teaspoon full, to get a good foam and aroma.
Pros: nice scent, will last a long time, good value at this price point
Cons: a bit of a tang that may not appeal to all
Overall verdict: 9 / 10
Lavender & Sweet Pea Moisturising Shower Cream 
I didn't find the scent on the Lavender and Sweet Pea Moisturising shower cream (225ml £2.99) to be as strong, nor did it have quite the same tang. The aroma is more gentle, and the cream feels lovely and creamy on your skin.
I do have very dry skin though, and felt that this left my skin feeling less moisturised than I'd have preferred. I love the bottle, and the flowers on the bottle - it looks great. And for the overall price I think it is great value. But for my skin type I don't think I'll be buying this one again.
Pros: gentle scent and gentle on the skin
Cons: wasn't as moisturising as my usual shower cream
Overall verdict: 8 / 10
Red Rose & Magnolia Hand & Body Lotion
It isn't often that a hand lotion blows me away, but this one did. The Red Rose and Magnolia hand & body lotion (300ml £2.99) really does smell just like the rose petals off a freshly plucked rose. This slightly overpowers the Magnolia, but there's that hint of summer lurking in the background of this scent.
I loved this lotion as it took me straight back to the first house my husband and I lived in. The big, over grown garden had a huge, messy magnolia tree, and was lined with ancient, gnarly old rose bushes.
This makes me rather biased. I can't stop using the lotion, and it possibly has nothing to do with how effective it is and everything to do with the scent. It might be snowing at the end of March, and the wind might be an icy sword that sears through every layer of clothing. But just one whiff of this and it is almost summer in my head!
One squirt is more than you need for hands, but it does absorb really well and doesn't leave any sort of greasy residue.
Pros: a truly freshly cut flower scent
Cons: nothing for me but others may need a stronger moisturiser for their hands
Overall verdict: 9 / 10