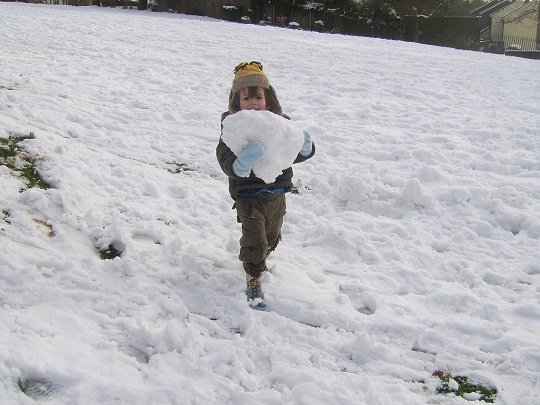 These last three winters have been bitterly cold at times. In the last 20 years I can't remember a time when it snowed three years in a row. For my son it means fun. Days spent sledging in the park. He loves it.
Me, well, not so much. Although I do quite enjoy playing about outside, the cold that seems to permeate the entire house even with the heating blazing away just seems to make it all seem much more difficult. And apart from the cost, you don't want the heating on all the time anyway. The stuffiness and the way that some rooms get over hot while others aren't just make it less than pleasant.
Lots of energy companies however are offering free insulation. No, really, it is true. It is free. Not that they're being overly generous or anything. The government has set them all targets to meet, so they've no real choice. The catch is, it all comes to an end at the end of 2012.
What is more, different energy companies have different deadlines. If you leave it till December 31st to apply, you'll have missed out.
So what is on offer and what does it mean? I thought I'd find out more.
Interestingly, you don't have to be the home owner to apply. Renters can too, as long as you've got the permission of your landlord.
Also, while not all companies are offering this to everyone (for example, Eon and nPower are only offering it to those on eligible benefits), you don't have to be a customer of that energy company. The offer is open to everyone.
What sort of insulation do you get?
It isn't double glazing unfortunately. What all the companies are offering is loft insulation, and cavity wall insulation. But what exactly does this mean, and what does it entail for the house itself?
There are more choices if you're on various benefits, and you can get help with your energy bills too.
Loft insulation
According to British Gas, loft insulation can save you up to £175 a year. I think our loft insulation is pretty good - when it snows the snow always stays on our roof for quite a long time. Whereas our neighbour's roof is clear almost straight away if it isn't a heavy fall indicating they're losing a lot of heat through there. Loft insulation acts like a blanket, helping prevent heat escaping through the roof.
On the British Gas website, it says that loft insulation is simply the rolling out of a thick material across the loft floor. And, installation should only take a few hours, making it quick and convenient. I wonder though if they would use the word quick if they were the ones who had to empty the loft first!
If you're on certain benefits, or you're over the age of 70, you can qualify for help with getting your loft emptied. To find out if this applies to you click here.
Cavity wall insulation
Cavity wall insulations, again according to British Gas, can save you up to £135 a year. So both together could mean a potential saving of £300. With cavity wall insulation, a filling blown into the gap between your exterior wall.
To qualify for this you first need to have cavity walls. This should be the case if your house was built between 1932 and 1982. It takes a day for the insulation to be installed.
From what I've heard from those who've had this done, it is a bit of a noisy job but still worth it. The walls definitely retain more heat and for longer.
Who is doing it?
All of these companies are offering free loft and cavity wall insulation to everyone, not just their own customers.
British Gas - deadline for application 30 November 2012
EDF - deadline for application 31 October 2012
SSE - deadline for application 30 September 2012
Tesco - deadline unknown
Eon and nPower are offering free insulation to those on benefits. In addition, for those on benefits there are various schemes through which you can apply for grants. These vary depending on what country you're in.
Although I've looked around the internet, to see what the experiences of others are like, you run into that problem that really people only voice opinions when things go wrong.
So, have you had loft or cavity wall insulation? What was your experience like?