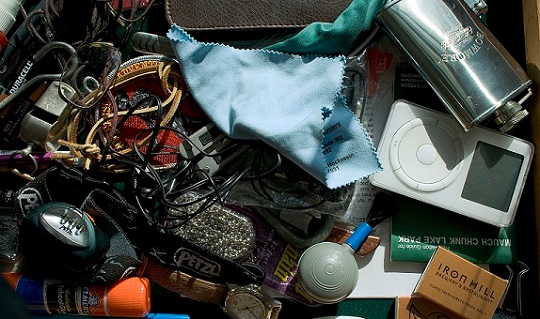 Funny how at this time of the year I find myself wanting to spring clean. Maybe it is down to the whole change of season thing. Spring appears to have come a whole month late, but still the weather has finally managed to claw its way up past the 10 degree mark. And there's been a return of that yellow stuff too, otherwise know as sunshine.
As the sun lit the back wall of my living room for the first time in six months, I realised (as I do every year) that things have got a bit cluttered and dusty. Time to get the place looking fresh and clean.
This year I am boxing everything up, and sorting out the stuff I could feasibly make some money from. With a bit of organisation, I plan on having a really nice treat day out this half term. Paid for by the stuff I don't need! I'll update you on how I get on later in May, but for now, here's some of the places I've found that will pay for your junk, online. Read on to find out more.
Gold
OK I am putting this up first because it is one of the first things that people mention. But I do not recommend using any of the cash for gold type websites that want to buy your stuff online. Unless you are happy with any amount of money, and just want the convenience of one of those sites.
You will get a much better deal if you go to a proper dealer. A friend of mine went to a jeweller in Hatton Garden in London, and got twice what they had offered her online. As well as getting a better offer, your gold is not at risk as you don't have to let it out of your sight when getting it valued. For more on this read the Which consumer report here.
So lets move on to some of the stuff you can get rid of online!
Books
This was a surprise to me as I hadn't thought of selling my books online. I have some excellent novels, in good condition, that I simply don't need to keep. And yet I had often seen those offers of used books on Amazon. You can find out more about how to sell on Amazon here.
Another site that sells second-hand books is Green Metropolis, an online charity bookshop. All books are sold for £3.75 with free delivery. If you sell a book on the site you get £3, but you do have to pay for the postage, so this works out to £2 for an average sized paperback.
Mobile phones
There are numerous sites online offering to buy back your phone, and you can do it yourself via eBay.
Using an online site is more convenient, as they will give you a quote straight away and then you just have to send your phone off. However, the company then appraises the phone and may offer you a lower price due to wear and tear. Some companies seem to do this a lot, so it is worth taking careful note and photos showing the condition of your phone. You will get more if you have the charger with some companies, and prices also vary so shop around. A few sites to consider are MobilePhoneExchange, Cash4Phones, WeBuy, and Sell My Mobile.
Laptops and other gadgets
As with mobile phones, you can sell most other electronic goods particularly laptops and netbooks. Doing a clear out I found three old, and useless, laptops gathering dust.
First make sure you utterly erase everything on the hard drive. This doesn't mean deleting files. It means a proper wipe. You can use the free software from this site to clean the hard disk - KillDisc.
A Which? consumer report from last year found that selling privately gives you the best return. In their investigation, online site offering to buy your laptop gave the lowest prices. Again, many websites will offer lower prices when they actually see the laptop, so careful record taking on the seller is necessary.
These site are more convenient than doing all the legwork yourself though. A few to consider are We Buy Any Laptop, Buy My Laptop, and Laptop Trade In.
Nic knacks and ornaments
Before taking these down to the charity shop, have a look on eBay. You may be surprised at what you find. It is possible there is a collectors market for these items. A friend of mine found this out almost by mistake when doing a clear out that she could get good money for her old sewing patterns.
Remember when decluttering, one person's junk may be another person's treasure!