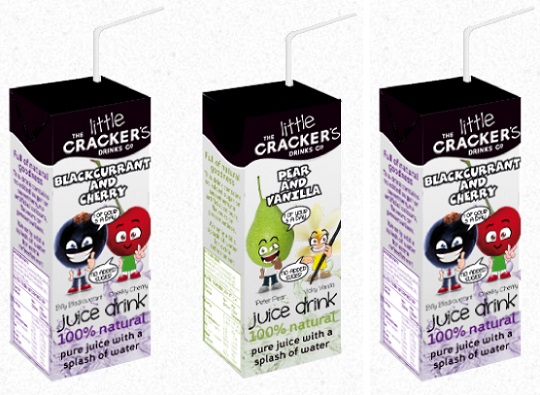 Tired of always feeling like you're having to choose between Innocent smoothies, with their great varieties of flavour but need to be in a fridge, and cartons of concentrate in a choice of apple, orange, and pineapple?
I am. Completely and totally. If left to his own devices my son would just drink apple juice. I like to try and at least get some variety into his juice drinking even if he wouldn't eat the actual fruit. Got to grab any opportunity to broaden the number of flavours he will try any which way I can.
Little Crackers are the new range of drinks from The Crackers Drinks Co, aimed as you can guess, at children. The drinks are advertised as being 100% natural, all juice with a splash of water. There will be four flavours available, but to start with the company has launched two. And we got a carton of each to try out.
The Cracker Drinks Co contributes 1% of its annual net profits to Rainbow Trust Children's Charity, which supports families who have a child with a life threatening or terminal illness.
The Little Crackers drinks come in 200ml cartons and are priced at £1.49 for a pack of three in Sainsburys*. With no added sugar or sweeteners, each carton of this juice drink counts as part of kids' five-a-day with 75% pure juice and a splash of water, providing a high fruit content of 75%.
The packaging is clearly designed to appeal to children, with cute cartoon style characters on the front. If your child likes to read while they drink they may find this entertaining. The cartons are tall and slim in form, rather than short and fat, so easier to fit into lunch bags. Each of the characters has a name as well.
We only got one carton of each to try, so just my son and I had a drink. I don't know why but I thought the drinks were going to taste watery. Maybe it was the prominence of the 'splash of water' on all the cartons.  The drinks have a very clear fruity flavour.  Blackcurrant and cherry was, we both thought, an odd mix. Neither of us are big cherry fans, so this wasn't a hit. However, if your child finds blackcurrant too tart on its own they may really take to this blend. The two characters are Billy Blackcurrant and Cheeky Cherry. Interesting, poor Cherry was the only character not to be given a proper first name.
Next up Pear and Vanilla. Now this did sound like a baby type of drink, and my son was adamant that I was never, ever to put this in his lunch bag (I never said a thing!). He still hasn't got over the time I accidentally put one of his old baby spoons in for his yoghurt instead of a teaspoon.
However, the flavour was gorgeous. We're both fans of vanilla so this went down well. The two characters here are Peter Pear and Vicky Vanilla. Maybe because Cherry is also used as a first name they thought she didn't need one?
These are a nice idea, and I think the price is good for a concentrate. But. I'm not a big fan of concentrates. You get all of the sugar (natural sugar, but still sugar) of the original stuff but lose most of the vitamins and minerals.
Still the drinks do taste sweet, without added sugar or sweeteners, which can be a bonus.
Pros: good flavours, nice cargons
Cons: still a concentrate (I appreciate this is an issue mainly just for me!)
Overall verdict: 9 / 10