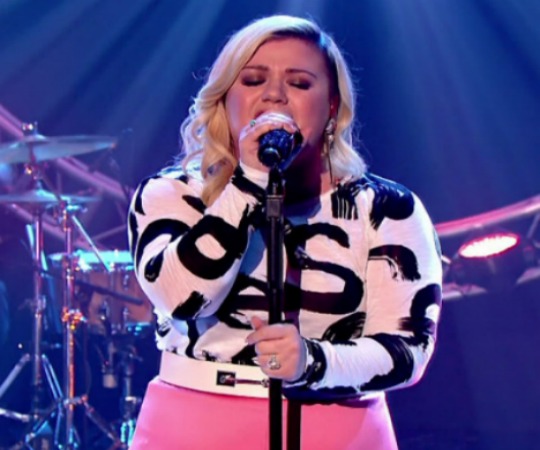 Katie Hopkins has been flapping that acidic tongue of her's about again. This is what she kindly shared with the nation via Twitter, following Kelly Clarkson's performance on the Graham Norton Show:
Jesus, what happened to Kelly Clarkson? Did she eat all of her backing singers?
We all know that KH can be a bit of a troll but has she got a point wrapped up in a malicious comment? I know what you are all going to say and you're right, no-one should be spoken about like that. It's just downright nasty and totally uncalled for, right?
Kelly Clarkson had a baby girl last summer and has clearly put on weight. Don't we all. I put on FIVE stone in my last pregnancy. I have had people say to me "you should lose weight" or "oh my goodness you have piled on the pounds". It hurts but deep down it helps me to not put on any more weight.
Is it okay to comment on a mother's weight gain if it is out of worry and not spite? As someone who's weight has gone up and down like a y0-yo their whole life I can't always notice my weight gain and sometimes I am purposely ignorant to the fact I am a chunker. Whilst there is nothing wrong with putting weight on when pregnant, if you put a lot on it can have an impact on health. Do someone's comments on your weight gain have to be detrimental, can't they be the wake up call that you need?
We are dying to know what you think about this? Is it ever okay to comment on a mother's weight gain? Let us know over on our Facebook page.