Celebaby: Celine Dion Admitted To Hospital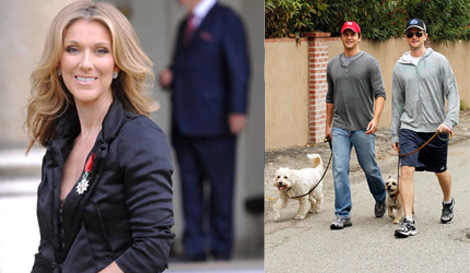 Twins - I'd love to have a twin, just think of all the mischief you could get up to!
On the one hand we have Celine Dion trying to keep hers on the inside for as long as possible and twin boys, born by surrogate, to their fathers Neil Patrick Harris and David Burtka on the outside!
Celine Dion admitted to hospital
Celine Dion is pregnant with twin boys after enduring months of IVF treatment.
She was admitted to a clinic in West Palm Beach, Florida yesterday in a bid to prevent their early arrival as they're not due until next month.
A statement released by St Mary's Clinic said,
"Ms. Celine Dion has been admitted to prevent the early delivery of her babies which is a fairly common clinical practice for mothers of twins. This is done to ensure the patient can be in close contact with their doctors and clinical resources, leading up to their birth.Celine and Rene have placed the health of their babies as their highest priority."
Rumours have also been flying around that Celine had been requested special treatment, the clinic put everyone straight on that too,
"At no time did Ms. Dion or her husband make any special demands or requests of the hospital... She has not requested or selected any particular staff or accommodations not available to other patients.
Although the family did not ask us to do so, the hospital has chosen to enhance our security efforts during this time for the convenience and safety of all our patients and their families within this same area of our facility."
Fingers crossed those babies stay put for just a little while longer!
I'm a DAD! ME TOO!
Back at the beginning of September I told you that Neil Patrick Harris - of How I Met Your Mother fame - and his partner David Burtka were expecting twins via surrogate.
Well they have arrived! Patrick and David are now 'twin' daddy to twin boys.
They arrived earlier this week and have been named Gideon and Harper, and how did we get to hear about this lovely piece of news...?  TWITTER, of course! I mean, is there really any other way?!
The proud dad's were spotted out and about walking their two dogs - no sign of the babies yet, but as soon as there is we'll bring you the pictures!