Cafe Nueva Intenso Review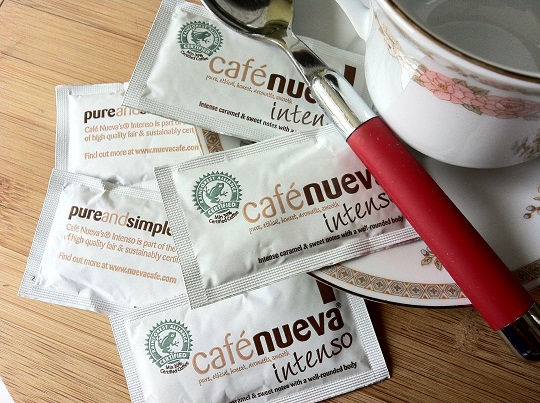 That nice cup of coffee. Stimulating, refreshing, and great to chat over while the kids go occupy themselves in another room. Or that might just be me. I'm perfectly happy to let the children loose, with orders to sort it out any problems themselves.
Cafe Nueva is a new range of fair and ethically certified coffee. I received a number of the latest addition to the range, the Cafe Nueva Intenso caramel sachets. These are like posh coffee with a shot of caramel syrup from a coffee shop, but in a sachet that you can make at home. Without a machine.
Read on to find out how good, or bad, this coffee is.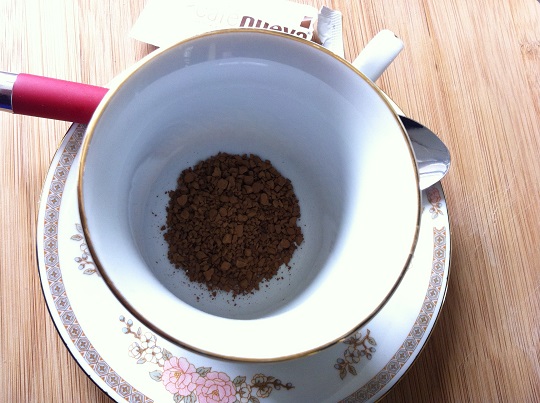 Nueva sources its coffee from triple certified small growers. These growers are certified by Rainforest Alliance, Fairtrade, and Organic growers. So a pretty sound pedigree all round. I'm definitely all for anything that's both good for the people growing it, and less full of chemicals etc.
Cafe Nueva (£3.29 for a 100g jar) is available from Budgens, Booths, Waitrose and Ocado. There's also Cafe Nueva available from vending and food service suppliers. So you may run into sachets of these coffees just about anywhere.
I like a shot of caramel in my frothy coffee. I am a bit fussy when it comes to coffee though. I don't mind having instant. In fact I rather prefer the freeze dried stuff at times. What I don't like is the bitter, slightly chemical aftertaste you get from some coffees. Such as those made by an international chain of coffee shops whose name starts and ends in an 's'.
The coffee looked full bodied in the cup, with a slight froth on top. It smelled rich, with a hint of the caramel flavour. It tasted, to me, slightly bitter with a chemical aftertaste I found off putting. I did try four sachets myself, and found the same with each.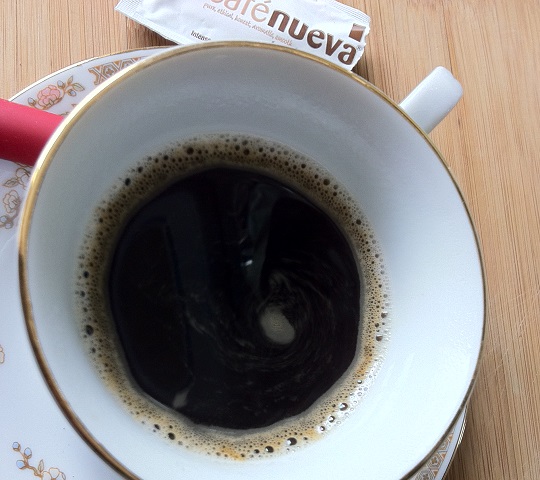 I tried the same sachets on my neighbour, who often drops by for a cuppa. She didn't find it as bitter as I did, but she also found the caramel taste to be a little bit (in her words) "fake".
It made me go online and check out what other people had to say about the coffee. And it seems pretty split between those who find it bitter, and those who absolutely adore the coffee. It could just come down to a matter of genetics, and how your tongue perceives flavours. I think that if you like, say, Starbucks coffee, then you'll like Cafe Nueva.
Even though I wasn't enamoured with the flavour, I have to say that there are positives. This was still a drinkable coffee, with a very smooth taste. The sachets seem to contain the usual amount of coffee you get in a single cup coffee sachet. But the result was a deep, rich, dark brew.
It wasn't my cup of tea (so to speak) but it is worth trying this coffee out to see if it is yours. It's reasonably priced for a Fairtrade, organic coffee, and the results are pretty good for a freeze dried blend.
Pros: solid, ethical credentials, and a good price. It is also organic.
Cons: some people will find this a bitter coffee
Overall verdict: 6 / 10 purely because I just didn't like the taste. If you are OK with a bitter coffee then you will probably find this is more like  a 9 / 10