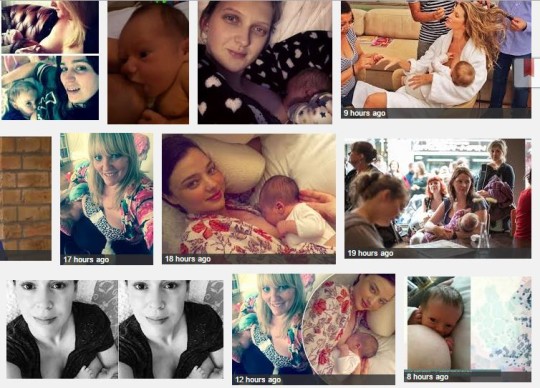 Heidi wrote this morning about #Brelfies, the apparently new 'thing' which is to post breastfeeding selfies online and while Heidi asks "why would you?" I'm more inclined to ask "why wouldn't you?"
If you Google #Brelfie you'll get a lot more of what's in the image above - a huge variety in what breastfeeding mums consider okay to send out into the web'sphere. Some are happy to expose a whole breast while others you wouldn't even know were breastfeeding if they didn't tell you.
I think those pictures are representative of the whole point of the argument that's been raging online about this #Brelfie movement: different people are comfortable with different things. 
Some people share the colour of their bras on their Facebook pages which lets every person they personally know think about their breasts for a split second, and what colour is covering it. That's okay though, because it's for Breast Cancer Awareness. Despite the fact that it actually does absolutely nothing for breast cancer prevention. But as soon as we start sharing pictures of breastfeeding - which actually helps lower the chance of breast cancer, by the way - it's suddenly something everyone gets in a tizz over. It makes no sense.
While you may not think there's any value to seeing breastfeeding in public, or 'normalising breastfeeding' as those of us who do it call it, you're mistaken. I know so many people who've taken up breastfeeding second or third time around because now they know other mums who do it - not because they've been made to feel guilty and not because they've been made to feel like they have to by crazy militants, but because their perception has been changed by normal, down to earth mummies who are doing the best they can for their babies.  (And I could go into a whole story here about how normalising breastfeeding is doing everyone a favour, since it's so much cheaper than formula feeding, easier, less fussy, healthier for mum and helps keeps many new babies out of the hospital in that first year, but chances are you'd just switch off, because we've all heard it before.)
Yes, yes, I hear you saying something like "going to the toilet every day is normal too, but no one takes a photo of that!" I don't want to burst your bubble, so won't suggest you Google it. Photos of my toilet habits isn't really my thing. It's not something I'd do, myself, but that doesn't mean people don't do it. I'm perfectly capable, however, of glossing right over that section of society. Feel free to do the same.
The fact is that it's a big world, and while our island may be quite tight for space in some parts, there's still room enough on it for everyone, no matter our differences. If you don't want to see a #Brelfie, move on. Use a hashtag blocker. Close the window. Find something else to do.You may not like breasts, breastfeeding, breastfeeding pictures, or people who breastfeed, but seriously, get over it. Breasts can have two functions. You can look at your or your partner's all you/she likes and call them what you  (or she) wants, and if someone else's offends you, look away. Simple as that. 
When you start policing what pictures people can post of themselves or of their children, you're treading on dangerous ground. What next?  Of kissing, because it's too intimate?  Of holding hands because it can lead to kissing? If it's not for you, move on. There's really no need to guilt or shame another human being for doing what makes them happy, and sharing what they love.
Long before #Brelfie was a thing, I shared a picture of me breastfeeding my then 8 month old daughter on a bus in Brussels. I shared it with my readers and my friends because I felt such joy at finally hacking this breastfeeding in public thing and felt such a sense of achievement in that moment. I hope it's not too offensive.