"What vitamins do you use for your children?"
This is a question that gets asked in the mother's groups I attend and am part of both online and in real life so often, you'd be excused for thinking vitamins were as essential to child rearing as food is.
Over the last four years of motherhood, I've tried a variety of different vitamin pills, sweets, chewies and drops on my children, and I'll be honest and say few have ever stuck. When we run out, we don't buy more, we just start up again when the next lot arrive for review.
Perhaps that's something I should look at, but I'm afraid to say that Abidec Vitamin Drops (£2.95) aren't going to be the thing that sways us.  But before you write it off entirely, let me tell you about these multivitamin drops.

Abidec Drops contain 7 essential vitamins that promise to aid healthy growth and prevent vitamin deficiencies. These are Vitamins A, B1, B2, B3, B6, D2 and all the Vitamin D you're purported to need in a day.
Children under the age of 1 are recommended 0.3ml per day and children from 1 - 12 years are recommended 0.6ml per day.
The box comes with a handy dispenser, a sort of syringe plunger style thing. It has the appropriate markers on it, and you can draw up the amount you need and squirt it straight into your child's mouth.
The syringe is easy to wash and leave out to dry, ready for the next day's use.
The bottles come in 25ml portions, and the recommendation is that you discard 4 weeks after opening. If you have one infant having .3ml per day you'll end up throwing some of the vitamins away at the end of four weeks (or you could finish it yourself, it couldn't harm you!) but if you have two children having from it daily - especially two over the age of one - it'll last you about a month.
The Abidec Multivitamins state on the bottle that it has a 'natural flavour and aroma'. Unfortunately what that means is it smells like it's got to be good for you, because it tastes terrible.
It has a really foul taste when it first hits your tongue and then it fades into a hint of orange flavour, but still no where near enough to salvage it.
I have been able to give it to each of my daughters a grand total of once each, and they've refused it ever since. It really tastes 'natural'. I tried to disguise it with honey and in juice, but after that first attempt, I've not been able to trick either of them.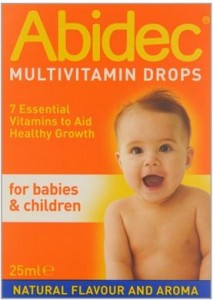 Unfortunately, the orangey colour also stains as I found out when the youngest dribbled it all out over her dress.
It's a really tough balance to strike, because I love that it isn't artificially sweetened and doesn't have rubbish added to it, but my children, who have to taste it, do not agree. They actually ask for some of the other vitamins we have in the cupboard, because they are like sweets, but this they won't even go near.
I had a look online at what other parents thought, and there are two camps: they'll get used to it, or they won't take it. Most people feel that it has benefited their children's health, or even just their own peace of mind when they have picky eaters, but since my kids eat a pretty varied diet, I've not felt the  need to force the drops on them.
A lot of people have agreed about the flavour, but those that 'get away with it' seem to be giving it to younger children or babies.  Since this product can be used from birth (although I can't imagine why you would need to), you may be able to get younger children used to the flavour before they can fight you off, but in my personal experience, good luck with toddlers and children.
That said, there are parents online who swear by it and say they've been using it on their children since they were small. It's not an expensive product, so it is certainly worth trying.

The Good
As a multivitamin that covers a lot of the bases, you can't complain about what it's offering.
It is a really cost effective vitamin, at £2.95 for essentially 4 week's supply.
It gets a lot of good reviews from other people
It is suitable from birth
The Bad
The small print is really small, and I only noticed that it contained peanut oil from reading another review on it. I hadn't even seen that on the bottle. This isn't a problem for my children, but for someone with a peanut allergy, that could be a big problem.
The taste. It tastes like eating grass. Or something similarly natural. I could not convince my under 4's to have it more than once.
The Verdict 
Well. Let's just say I won't be rushing out to buy more. My children hate it. I can't say it's particularly nice. I'm sure it does what it sets out to, and if there were no other options available, and I really felt the need to add to my girls' nutritional supplements, I would use it, but since that's not the case, I really wont.