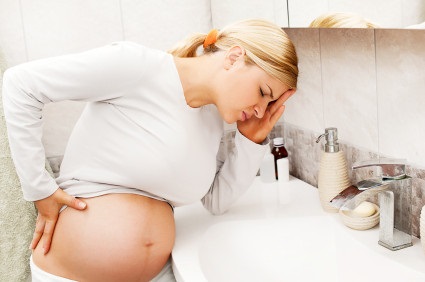 Being pregnant is wonderful, but it ain't no picnic (uuuhhhhhh, picnic - *vomits over bedside table*). It lasts for ages. You have to drink Shloer at parties - that's if anyone invites you to a party because you're such a grumpy bitch bag. And just as you're getting into your stride, around the 6 month mark, you turn into Humpty Dumpty with swollen ankles. Here are some myths that many of us – including the expectant Kate Middleton – now know the truth about…
YOU GET TO SIT DOWN AND BE PAMPERED
Yes, in your first pregnancy, you can watch all the telly and get all the foot massages you want. That's if you can stand the restless legs, the weird feeling of a human being pressing on your internal organs, and the terrifying, gnawing fear that it will have to come out of your body - SOMEHOW. For women in their second or third pregnancies with young children, however, you can forget sitting. You've got to carry the increasingly heavy arse of your other kid about, while feeling like the world is about to fall out of your gusset. And they'll have to get you out of the Tunnel of Fun at the softplay using a tub of margarine and a winch.
YOU'RE BLOOMING
Look at those rosy cheeks. Nothing to do with waking up at 4am with a weird, uncontrollable urge to move heavy furniture around, clean the windows and scrub all the floors with a nailbrush.
YOU'RE SO HAPPY
Yes! You are. Of course you're happy, because pregnancy is a beautiful, beautiful thing. Get you, populating the earth while rocking those Top Shop maternity jeans. Let us not forget, though, that you are also certifiably insane, your hormones are pinging about like a game of Pac Man, and your brain is 50% pink Teletubby custard.
YOU SUFFER FROM MORNING SICKNESS
Morning? Morning doesn't quite cover it. How about the constant feeling that you're going to throw up for 9 months, coupled with a heightened sense of smell that makes you unable to go to cafes or restaurants, talk to people who are wearing perfume, or otherwise exist in society without wanting to vom all over its shoes? (Eww, the smell of shoes – blaaaaaaaaaaaagh). From a pre-breakfast technicolour yawn to full on hyperemesis gravidarium, being sick is a pregnant lady's lot. And the triggers are so unpredictable. During my pregnancy I developed an aversion to Oust air freshener and ylang ylang hand soap. (WTF?)
DYING YOUR HAIR IS BAD
Looking like an armoured tank for the best part of the year is bad enough without having roots like Courtney Love. Yes, you can dye it any colour you like, backcomb it, foof it, and make yourself look like a John Travolta in Hairspray if you want. The only danger is that your hairdresser might not colour it to your satisfaction and you will try to murder them with a rolled up copy of The Puzzler Wordsearch magazine.
YOU'RE SERENE AND RELAXED
The boring, overused stereotype of a mother is that she is serene, like the Virgin Mary on Nytol. Pregnant ladies might occasionally look calm and at peace with their Earth Mother status, but that's because they're so bloody knackered that they can't even get it together to make a facial expression. If they could, it would be this. (nightmare warning!)
YOU GET CRAVINGS
When I was pregnant I was dying to get some kind of kooky, Hollywood movie style craving for tarmac or pickles and ice cream. Oh, how fun it would be to send my husband to the garage at 2am for a sack of charcoal briquettes and a pot of Dairylea. But I got nothing apart from an increased desire to visit Greggs every single day. The only true craving I had was for everyone to leave me the hell alone with some biscuits and the remote.
WHEN YOU FIND OUT YOU'RE PREGNANT YOU RUN OUT AND BUY 87 PREGNANCY TESTING KITS FROM THE CHEMIST
Talking of Hollywood myths, there is really no reason to fill your Boots basket with expensive pregnancy testers. One will do, plus a trip to a completely unimpressed doctor to verify the news. Chances are there won't be an uplifting soundtrack to your big, life changing moment, either. Unless you count the sound of tinkling wee.
BIRTH PLANS ARE VERY IMPORTANT
A birth plan is a bit like a really embarrassing teenage diary, full of romantic idealism. You look back on it and cringe that you could have been so ridiculously naïve. Back then, you wanted a water birth at home with candles (LOL!!). Unless you have a specific medical condition, then your birth plan should just say 'GET ME TO A HOSPITAL AND GET IT OUT OF ME ANY WAY YOU CAN!' in murderous blood red ink.
YOU CAN'T EAT UNPASTURISED CHEESE
One word: France.