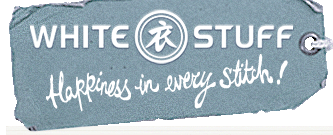 Sometimes it's just nice to wear something that's got a bit of quality, here's a promotion code for the White Stuff for you to help soften the blow.
Discount: 20%
Minimum Spend: £0.00
Promotional Code: FLOOD
Expiry: 10 JULY 2010 (so you've got ages to muse)
Click HERE to go to White Stuff
When I had my first child way back in 1994 my wardrobe had to deal with a bit of separatism and snobbery!  At one end you'd find the ridiculously cheap day to day stuff that's sacrificial after just one season because they stretch, shrink, fall apart etc but were only ever destined to be covered in general baby skank and muck and grime so that was ok; at the other end were the nice things, the things that were expensive by comparison but were made to last and some of them have done to this very day. White Stuff was always a place I'd go and drool and dream and only very occasionally dare to buy from, things are different for me now but if you're still in the clothing separatist phase then why not use this voucher code to treat yourself to something nice to wear in the summer and change in to when the kids have gone to bed (that's what I used to do to try and keep hold of some sort of 'sophistication'). I really, really like these Dolce pants, they just look so comfy and perfect for relaxing in when all is finally quiet on the western front.  Team it up with a white Brighton vest and a pair of these faboosh flip-flops and I reckon you'll feel casual yet elegant whilst you sit outside in the warm evening sunshine with something long and cold to drink.
There are some great things for our PlayPennies dads too, how about these shorts with this white shirt and these flip-flops...?  This is just a flavour of what White Stuff has to offer so now it's over to you!
Enjoy!
Thanks to ycsb over at HUKD!