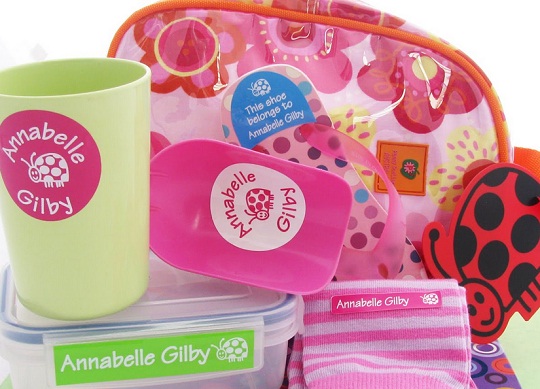 If you have a child at school or nursery you already know the pain that is labelling all their clothes. And take it from an experienced primary school parent. You really DO need to label all their clothes. And not just the obvious stuff like jackets and jumpers either.
At the start of Year 2 my son and his friends thought it would be ever such a great lark if they swapped clothes around when they got changed after PE. A real treat for the parents as we called around each other trying to figure out which tie was whose and where our shirts had gone.
When it comes to really expensive items, I always go for two or even three different types of labels too. So my son's winter coat will get a sewn in label, an iron on one, and his name in HUGE LETTERS in fabric pen written across the bottom on the inside. As big as I can write. We've not lost, or had a coat taken yet.
The same goes for his blazer, another expensive item to replace. For everything else I just use iron on labels and a fabric pen. Or I used to.
I've since tried out the Stuck on You range. Now I am not sure if these are new, but I've certainly never seen them before. They're personalised, and come in a range of different types - stickers, iron-on, labels for clothes, stationary etc.
Read on to find out how I got on with them.
Stuck on You Value Pack
The pack I opted for was the Stuck on You 5+ Value Pack (£24.99). In this pack you get
10 x Classic Shoe Dots
50 x Classic Iron On Clothing labels - blue
25 x Classic small name labels (stick on)
50 x Classic mini pencil labels
1 x Rocket bag tag
These all had my son's name on them in full, and a pirate's skull and crossbones.
First off, if you've got a rather mischievous child, keep these out of their reach. I got out the mini pencil labels to try out, and he had such fun labelling some of his pencils that I'm now finding these labels all over the place.
In fact, just now I discovered some tucked into the woodwork as you go up the stairs. And decorating the wall in the bathroom. And on the side of the freezer.
So I can say that these will stick quite well to any surface, but that they're also reasonably easy to peel off and won't damage the surface.
Next up I tried out the stick on name labels. These came in quite handy in an emergency - sports day dawned and it was pouring with rain. I had only bought his raincoat the day before, and hadn't labelled it yet, so was able to just stick these labels in. Brilliant.
Or it would have been if my son had remembered he had a coat and brought it back from the stadium with him. So here's a handy tip. If they're going on a school trip (and this sports day involved four schools at the national sports centre) make sure you also label them with the school name!
What I'd like with the stickers would be the option of having all one colour. Son has used up the red ones, and is OK with the blue ones, but is refusing to have any green, yellow or purple labels on his clothes.
The stickers are also great for anything that you don't want to (or can't) iron. I've used them on his ties for example. The stick on labels were absolutely perfect here, and so much easier than trying to sew a label on (they never sit right).
I've used the iron-on labels on all his shirts. So far, and it has been a couple of weeks, these have not peeled off. This is better than the usual iron on labels manage (I usually have to hot iron them down after every wash). None have come out in the wash yet either.
The shoe stickers have gone on his gym shoes, and he really likes them. They stuck on to the surface easily enough, and he hasn't rubbed them nor have they come out during use. These had a rocket on them instead of skull and crossbones, and I think he was a little bit disappointed about that.
Most of all though, I thought the bag labels were just a brilliant idea. The gym bags at son's school are all navy drawstring bags, and he is forever picking up the wrong one. With the rocket label on it, he finds it so much easier to find his own kit.
It is the same with book bags, and for this I got the Bug Mania silicon bag tag from the Designer Collection. It is really cute, wears well, and helps him quickly pick his bag out of the pile. It also comes in its own sealable pouch, and I've reused that for popping just a couple of wipes in for when we're out and about.
Pros: easy to use, name is clearly visible and easy to read, labels that can be stuck on everything from pencils and water bottles to shirts.
Cons: £24.99 is a lot, especially if you're doing this for more than one child. However, I think that a pack will last you two, maybe three years. I've labelled everything of my son's and only used a third of the stickers.
Overall verdict: 8/10