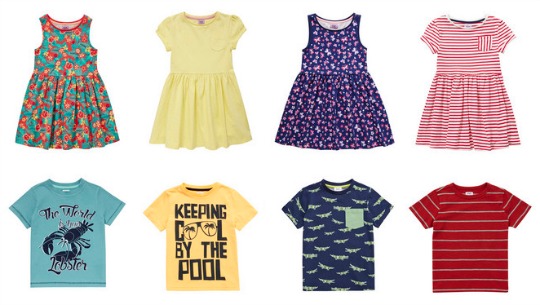 If you need to grab some cheap holiday clothes for the kids, or just want to stock up when the offers are on then take a look at what F&F are doing. They have 100 new season kids clothing lines with introductory prices of £5 or less.
The prices actually start at £2 for vest tops and t-shirts, dresses are from a really low £3 each, and leggings start at £3.50. There are also sun hats and pool shoes for £4, shorts from £4, and it even includes some character clothing from just £4 as well.
The selection is an awful lot better for girls than boys, as they get to choose from loads of pretty dresses, as well as lots of tops and leggings, whereas boys are left with just tops and accessories. At these prices it's going to be very cheap to kit out the kids for summer, and it''s very rare to get character clothing for less than a fiver.
All F&F clothing can be collected for free from Tesco stores, or home delivery charges are from £3.95.