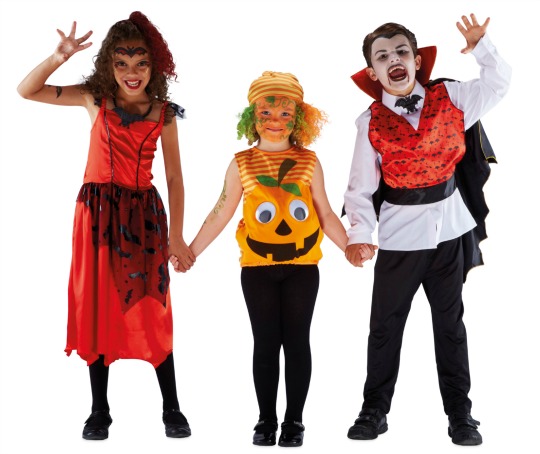 Aldi is stocking up for the scariest night of the year with a range of fancy dress costumes for mum, dad and kids alike, all at bargain prices. With an array of outfits and accessories on offer, adults costumes are priced at just £7.99, and you can choose between a vampire, skeleton dress or witch costume for women, while Dracula is the only choice of costume for men.
And while adults are masquerading as bloodcurdling bogeymen, the kids can get in on the act too. Little terrors can trick and treat as grinning pumpkins, scary cats, witches, vicious vampires and spooky skeletons from as little as £3.99. The costumes for kids fit children aged 3-8 years except for the pumpkin outfit which is for children between 3 and 5 years old.
Aldi has been awarded a Which? Award for Best Supermarket 2013, an accolade it won in 2012, as well as picking up 'Grocer of the Year' at the Grocer Gold Awards. Aldi was also awarded Retail Discounter of the Year in the Retail Industry Awards, first place in the Which? Consumer Loyalty and second place in the Which? Annual Supermarket Satisfaction Market Survey. Aldi also won 16 gold awards at the Grocer Own Label Awards 2013 – more than any other retailer – and the GHI has accredited 23 products to date.

From the new Halloween range we were sent two costumes to review as well as a packet of glowsticks. The adult costume was a black ankle-length dress with a skeleton printed on the front (£7.99) and the children's costume we received was a knee-length witch dress with a matching hat (£3.99). The glowsticks cost £2.99 for a pack of six, and they were a huge hit with my kids. Each pack includes two red, two yellow and two green glowsticks, and the kids had great fun running around in the dark waving these around. They also come with string included so you can wear them around your neck, but obviously you'll need to supervise that closely depending on the ages of your kids.
Halloween's a big thing where we live, but nevertheless I know lots of parents who disapprove of it and who certainly wouldn't let their kids dress up as anything nasty, so what I like about Aldi's costumes is that they're not too grim or ghoulish. I wouldn't object to buying the pumpkin costume for a child. I wouldn't choose the witch dress for a little girl but the spooky cat and bat-themed dress are nice alternatives to some of the nastier, scarier costume options out there for kids.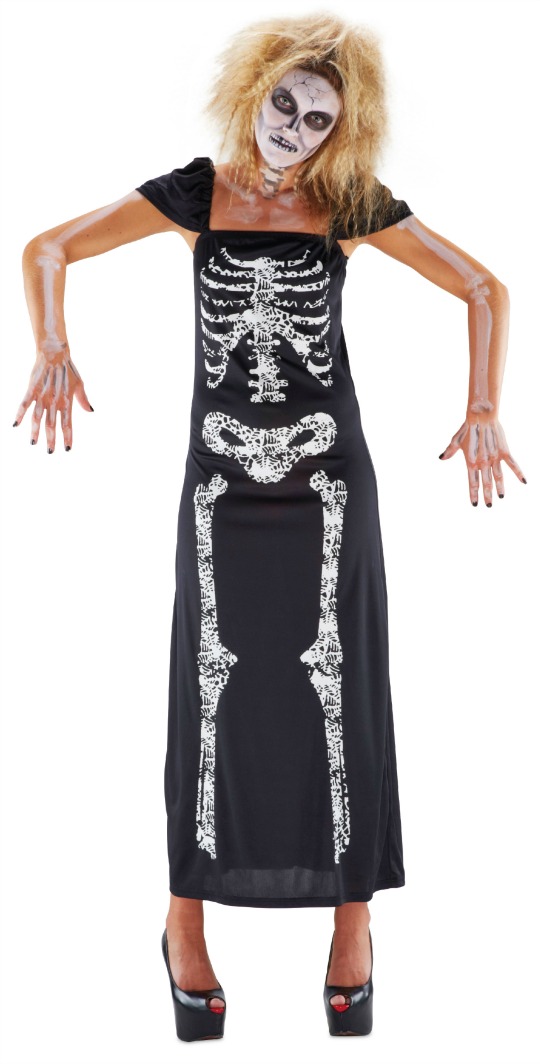 I liked the adult Halloween dressing up costume which Aldi sent us. For such a cheap costume it's reasonably good quality but my favourite feature is that it's pretty much complete as a dress - there's no need to spend a fortune on other accessories, and I wouldn't feel I hadn't made an effort if I threw this dress on and didn't bother to brush my hair before heading to a Halloween party!
I would definitely recommend Aldi if you're looking for fun, affordable Halloween costumes this year which will stand up to the rigours of partying and trick-or-treating but which won't break the bank.
Pros: Cheap and affordable, good enough quality, minimal extra accessories required, and a good range of costumes to choose from. We also like that the themes of these costumes aren't too gross or ghoulish.
Cons: Not a con exactly but at these prices these probably aren't costumes you'll wear over and over again.
Overall verdict: 9/10. A bit more choice for the boys and men would be great.
Aldi's Halloween stock goes on sale on Thursday 3rd October.