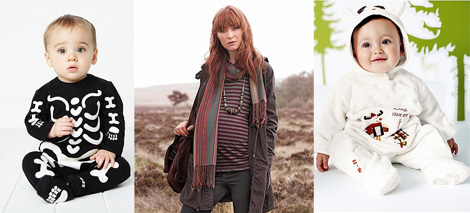 Mamas and Papas have a half price clothing sale on their maternity and baby clothes ranges!
Mamas and Papas, Mamas & Papas or M&P - the name is synonomous with elegance, style, quality and I love pretty much everything they have to offer.
All of my kids grew up being pushed around in Mamas and Papas pushchairs; when I was expecting my youngest I fell completely and utterly in love with their Millie and Boris nursery range and we all lived and died in clothes 'by Mamas and Papas'.
The thing is, compared to some other maternity and baby clothing ranges, Mamas and Papas can seem a bit expensive. However, you can't compare the two on quality - M&P will win hands down every time.
So all rejoice in the frabjousness that is the Mamas and Papas half price clothing sale!
50% off maternity items for you and 30% off unisex, girls and boys cute and scrummy baby clothes. There are also three for two offers on Mamas and Papas baby essentials.
You can order your things online and have them delivered to your home address for £4.95, or you can arrange to collect them from your nearest Mamas and Papas store.
Happy half price clothing sale at Mamas and Papas!