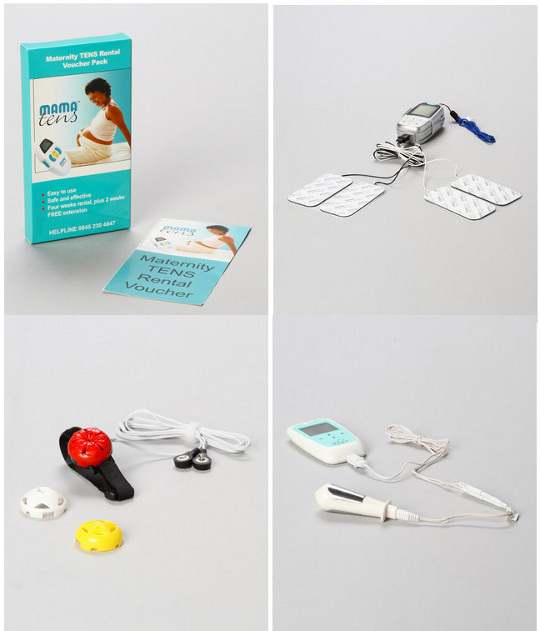 ZulilyUK have an offer on TENS Machines until the 31st of July. You can take 30% off purchase or hire of these made-for-mummymachines. Apart from the well known labour pain relief equipment, there's also an offer on a bed-wetting alarm, and a pelvic floor trainer.  TENS (Transcutaneous Electrical Nerve Stimulation) works by transmitting gentle, electric signals through the skin to stimulate the release of pain-relieving endorphins and block pain signals from the brain.
There are five different offers in this Zulily special, actually.  You can hire a MamaTENS for four weeks with an additional two weeks free, if required for £21 instead of £25. It has three pre-set programmes, as well as (the almost blissful) Boost and Ramp options. It comes with new batteries and pads and pre-paid return packaging.
Alternatively, for £40 you can own the Mama TENS which comes as above, and has acomplete kit with full instructions, a pictorial guide (as does the hire version), and a pack of four 10 x 5cm pads with integral leads - suitable for use in the first stages of contractions and for when full labour begins. Do read the instructions though! In my first labour I used the TENS machine for over 20 hours and only realised the next day that it had a higher pain relief setting I hadn't even touched! I didn't make the same mistake the second time round.
The more expensive version, the Mama TENS My Time is £50 instead of £65 is the new generation of TENS units, using innovative technology to monitor the frequency of contractions and the length of time in labour. Easy and safe to use, it even flashes an alarm on screen if contact between the pads and skin is lost.
After birth women need to retrain those pelvic floor muscles, and if you're forgetting to do your exercises when you're boiling the kettle - as our midwife instructed us to do - there's help. The Elise exerciser locates and comfortably stimulates important muscles for you, with four clinically proven programs - tested and proven to be highly effective, and at £47 instead of £60 is a great price too.
There's something for little ones - the Dry Night Trainer, which apparently helps ease them into night-time toilet trips. At the first sign of wetness, the alarm is triggered and alerts mum and tot so your little one can pop to the loo and keep the bed dry. I have no idea how this works, but it looks interesting and is selling for £14 instead of £20.
You'll need to sign up for Zulily if you're not already a member - it works a little like Groupon - and you'll receive your products within 10 - 14 days of the final day of the offer. Postage is an additional £3.95.