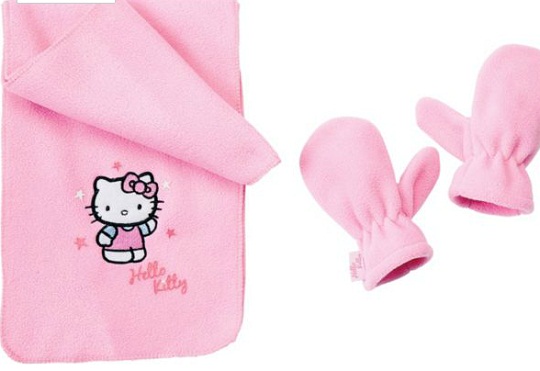 Argos has reduced the price on this ace Hello Kitty fleece hat, glove and scarf set. It was on sale for £9.99 but it is now down to £4.99 and it comes with free delivery too. Yes, you read that right, Argos is offering free delivery on this item. Weird, but true.
The Hello Kitty set is inspired by the iconic Japanese cartoon character and is made out of polyester. Fortunately no poly's were hurt in the making of these garments. Sorry, terrible joke. OK, the kit includes a fleece scarf with the Hello Kitty motif on the end, and two pink mitten-style gloves.
The hat is adorable with a dark pink trim that covers the ears to keep them warm, the Hello Kitty motif on the front and sides, and weird spaghetti fabric on the top. The set is only suitable for kids aged 2-4 years old though.
Thanks to Wadjet at HUKD!