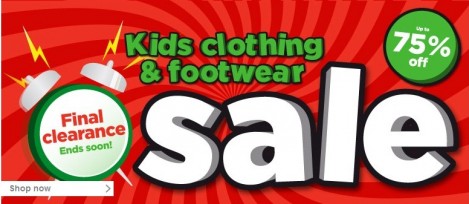 Woolworths has a sale on their kids clothing and footwear with discounts up to 75% off their usual retail price. AND if you go online and shop now, you can take another 20% off that sale price (oh yes, you get this on sale items!) using the code below.
The extra 20% off clearance discount code is XV773 which will be taken off all your items, whether they are sale items or not. The offer ends on 03 July and can be only used once so choose wisely and shop well.
There are around 199 products included in the sale ranging from shorts and slippers to shirts and football kits. There are cute little girl's jog pants, adorable Little Miss slippers, Ben 10 trekkers and even hair accessories on sale.
There is a lot to choose from and many of these are so cheap that slapping on that extra 20% discount almost feels like a crime. I've already nabbed some stuff for my little girl's birthday and sorted out some shortages in the t-shirt department.