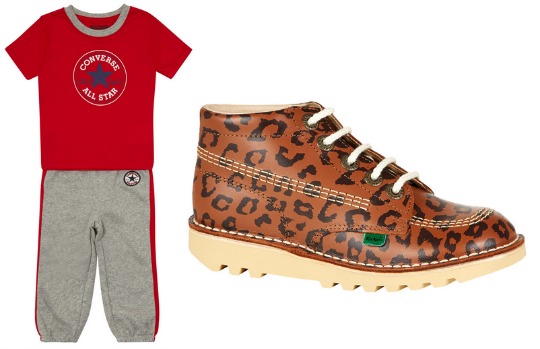 TK Maxx...the retailer that stole my heart and £££'s from me since 1999. On a serious note, they are great for those bargains, on those items you may not be able to afford at it's original price. They currently have an Kids Clothing Clearance on their website. Items start from just £4 and there are 146 items to choose from, so you should be able to find something to buy. The warmer weather is creeping in, albeit slowly but it's still on it's way, so the kids need lighter, cooler clothing. Now's the time to see if you can pick up a few summer pieces.
TK Maxx emphasis that they sell designer brands cheaply and I would agree that they do that, I got a Michael Kors Coat for £60! There Kids Clothing Clearance is no exception and even though you may not have heard of some of the brands don't disregard them as cheap rubbish. They sell some really good quality clothing from less well known designers too.
Here's my top picks: Grobag White Printed Sleeping Bag* RRP £29 Actual Price £11, Converse Two Piece Jogging Outfit* just £12 and Ripstop Two Tone Lightweight Jacket* RRP £35 Actual Price £14.
Home delivery costs £3.99 or FREE when you spend £50 or over.