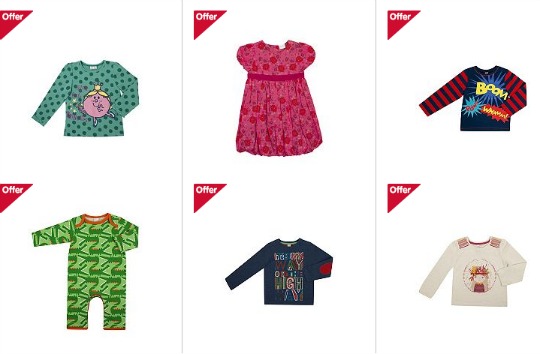 Move quickly on this one guys as stock will fly or the code will be pulled, one way or another this one isn't going to last long!
You can bag some total bargains here but you have to follow the instructions carefully and act now. For example that cute dress in the picture above (top middle) - that was originally £14, now you can get 3 of them for £7!!
You must use the code PC14MINI25 to get this price.
How it works : Put 3 dresses (for example) in your basket.  These were originally £14 each now £10.50 with 25% off.
So £31.50 is your total basket at the moment but then the following reductions are made...
342 so minus £14
then 25% off (with the code) sees the full price, so takes 25% off £14 x 3, minus £10.50
which leaves you with a balance of £7 to pay for all 3 dresses.
Things to note, you have to buy in bundles of 3 for this glitch to work (3 of the same item perhaps?). You obviously don't have to buy three dresses, that's just an example to show you how this glitch could work for you.
Looks like delivery is also free at the minute which is an added bonus too.
Don't forget you have to add that code PC14MINI25 for this price!
Stock up for your own kids, Christmas or Birthdays but do it now, this won't last long at all!
Huge thanks to ellie over at HUKD for this one!