Calling all Geeks! Ahem, sorry, I mean Level 9 Warlords...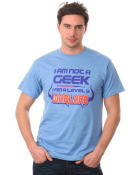 If you're in love with a geek what better way to spoil him than with this 'tastic tee?
Usually £19.99 at The Hut it's now just £2, an unbelievable saving of 90%. Now maybe that's because there isn't huge demand for these tees and I concede that it's quite a daring pressie to buy - but come oooon, it's funny, and quite frankly anyone who can't see the funny side of such a gift is probably pretty much deserving of the geek moniker, I reckon.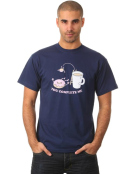 It's available and in stock in sizes S, M, L and XL and qualifies for free delivery. Hurrah! It's practically national love-a-geek day!
If you think that's a step too far there are loads of other tees at reasonable prices at The Hut. I love this 'You Complete Me' one and think it's a pretty cool but quirky way to tell someone how you feel - and it's only £3.93, down from £19.99.
But go on, I dare you, make a Level 9 Warlord smile...!