FunMum Maternity Promotional Code: 10% Off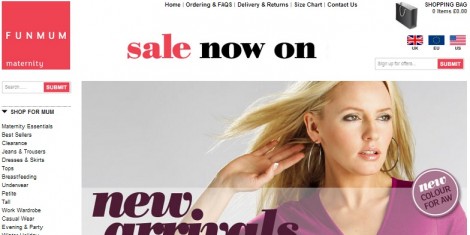 Use this code for FunMum Maternity to get 10% off your order. That might not seem like much but this code works on sale items. Woo hoo! Selected items are reduced with between 25% and 70% off.
Click here for 10% off at FunMum Maternity
Discount: 10%
Promotional code: FUNMUM10
Expires: 31st January 2011
To use this code, go to the Shopping Bag page and enter it in the Promotional Discount code box. The discount is applied automatically to the order.
I tested it out on a pair of classic indigo jeans that had already been reduced by 25% from £49 to £36.75. This reduced it further by £3.68 (nice that they round up and not down). Delivery charges are ££4.95. So in total the order cost £38.03.
I'm not pregnant so I didn't take it fully through checkout. I do remember though how important my pair of maternity jeans were when I was pregnant. I bought three pairs actually, two were cheap pairs I bought from a cheap clothing hight street chain, and one pair were from a more upmarket specialist maternity shop that originally cost £40 (however, I got them second hand so only paid £6). In my experience, buying from a specialist maternity brand was worth every penny as they were a fantastic fit, and dead comfortable. And I continued to wear them long after my son's birth.
The two cheap pairs though turned out to be expensive mistakes as I wore them probably a handful of times at best!
Thanks to millarcat at HUKD!